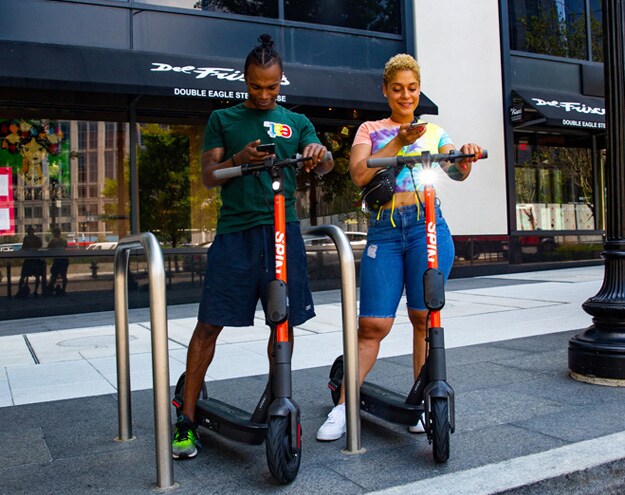 Looking for a way to get around more easily in the city? Spin, part of Ford Smart Mobility LLC, has just recently announced their plan for the newest electric scooter model. Starting this coming month, Spin's latest generation scooter will be coming to the streets of many U.S. cities!
Spin has made advancements in their safety, security and reliability with this new generation scooter. It is also considered a more sturdy product that gives an overall more safe, smooth, and comfortable experience to the users. This scooter will feature:
Larger frame, strengthened mechanical structure, and a wider and longer platform
More responsive braking system
Bigger (10-inch) tubeless tires (better for rough terrain)
High efficiency rear drive that improves accelerations and increases the uphill performance
Custom security screws to help decrease vandalism
Battery life enhanced (ride up to 37.5 miles on a full charge)
Upgraded Spin authentication system
Co-Founder and Chief Operating Officer Zaizhuang Cheng said, "In our testing of the next edition Spin scooter, we have seen a significant increase in utilization and our customers are taking more rides and traveling longer distances. We will continue to support the creation of more durable and robust scooters in order to meet the market demand, and provide our riders with a safe, smooth, affordable, and reliable ride."
The company also unveiled a new logo that will allow a new refreshing feel to come to life over all Spin''s platforms. said Co-Founder and President Euwyn Poon states, "Our redesigned logo draws inspiration from the excitement and joy of riding Spin scooters, and takes a bold yet playful approach to design. Just as riders are able to adapt, react, and make plans at the spur of the moment, the logomark embodies a feeling of spontaneity and motion."
Spin will be coming to the streets of Michigan soon and no doubt will be the new way around!