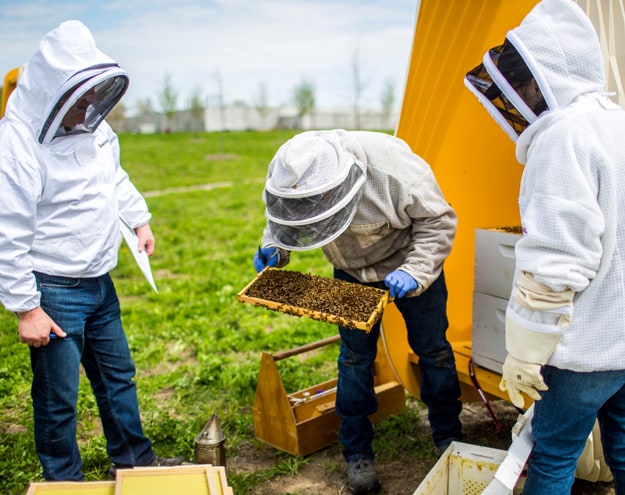 Borgman has been proud to represent Ford in Grand Rapids for almost 60 decades. One of the things that sets Ford apart is the company's commitment to the environment. A great example of this is Ford's Cherry Hill Farm in Ypsilanti, Michigan, where they teamed up with veterans to create a brand new home for honeybees. Through the program, they're helping veterans acclimate back into civilian life through Ford's Heroes to Hives while also maintaining honeybee populations, local ecosystem, gardening and farming communities in many states.
Ingrao started a therapeutic beekeeping program in 2015 with just a handful of other veterans. It has now been evolved into Heroes to Hives which is a unique nine-month program offered through Michigan State University Extension that addresses financial and personal wellness of our veterans through professional training and community development centered around the art of beekeeping.
"It's a privilege for all of us at Ford to be able to provide something to help our veterans," said Wright.
Ford Cherry Hill Farm was once used as a testing site for the Ford tractor division. It is now the newest location for Ford's Heroes to Hives. Ford is dedicating five acres of Cherry Hill Farm to the program. There will be pollinator-friendly plants to support not just honeybees, but other pollinators too.
The colonies increased in size over the winter and the Ford bee population multiplied to allow a controlled split. When a hive is split, it allows the bees to continue to multiply and it prevents potential swarming. There was enough bees to start a total of five new colonies from the original hives. All of the harvested bees will go to Ford's Cherry Hill Farm to help veterans as part of the Heroes to Hives.