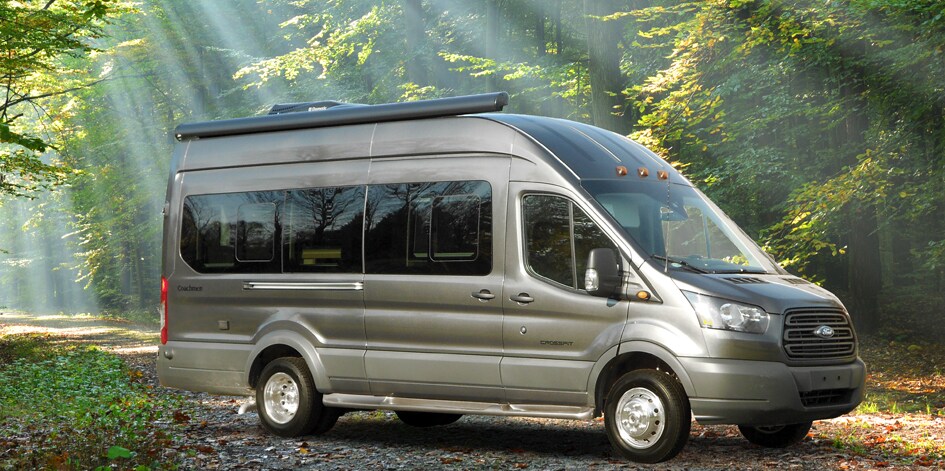 When you catch the travel bug, what's your go-to solution? Imagine walking outside to a built-out Ford Transit—an on-wheels, glamping-style, miniature home on the road designed perfectly for your adventures. Ford can get you anything up to a Class C motorhome for the ultimate National Park exploration with the entire family, and everything down to a minimal home on the go. If you're looking to purchase a motorhome or mobile accommodations, consider customizing a Ford Transit! Ford offers the greatest variety of configurations in the class. Our specialists at Borgman Ford are excited to help you achieve your dream on the road.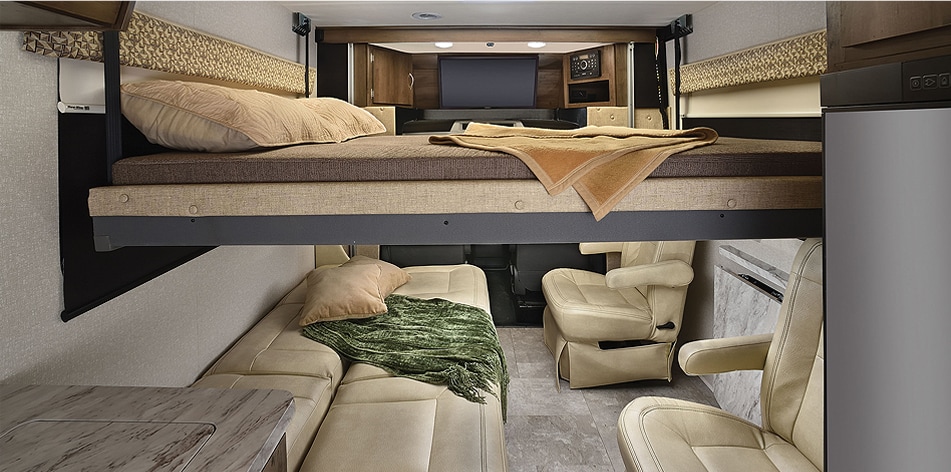 The Orion Motorhome Upfit
Selecting an Upfit: Your Customization is Unlimited
While you could build our your own dream home on wheels, Ford has engineered through thoughtful considerations various motorhome upfits—your first decision is if you want to limit your build to the size of our large Transits and maintain the ease of low-profile driving, or if you'd like to go all-out with a camper body. Offering Transit, Class B and Class C motorhomes, these pre-built upfits can be tailored to whatever purpose or preference you have in mind. Our custom created upfits range from our powerful EcoBoost Engine on a Ford Transit Chassis to a 3.2LI-5 Ford Diesel engine. Luxury features such as configurable storage, seating, and sleeping and LED lighting, mini fridges, and kitchenettes are standard in upfits. Options such as bike racks, solar systems, baths, convection ovens, and water filtration are just a request away. Whatever you're looking for, we can tailor it.
Click here for Ford's detailed brochure of the full range, recreational upfit options.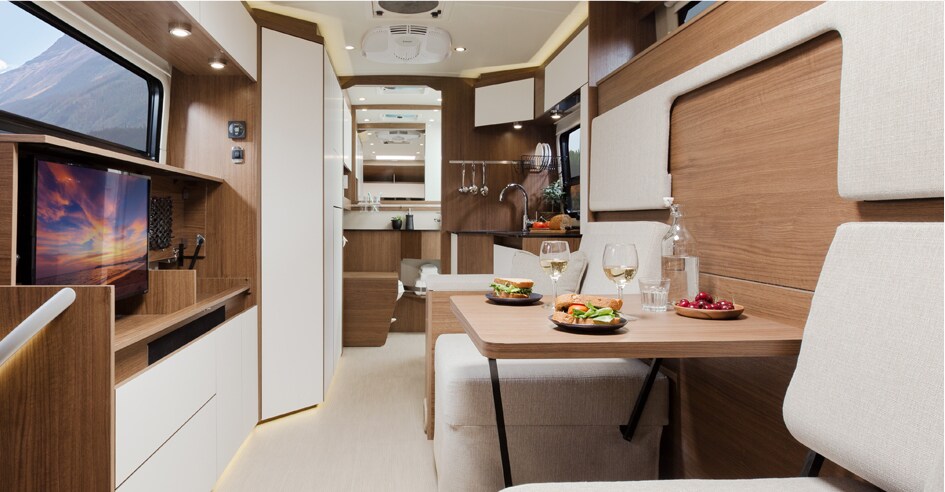 The Wonder Motorhome
The Always Included Accommodations and Features
The Transit provides the comfort of a smaller vehicle and surpasses the performance of an RV. Convenient features such as easy maneuverability and driving dynamics, rain-sensing windshield wipers, rear-view camera, lane-sensing technology, and a side wind stabilization to combat unruly weather. On the performance side, the Built Ford Tough promise is safety first—our Transits feature AdvanceTrac with Roll Stability Control, 4-wheel Anti-Lock Disc Brakes, and all around airbags. Don't worry, we've tested the toughness for the most extreme weather by inducing strenuous temperatures (from -40 to 120 degrees) and driving across proving roads and highways for thousands of miles. The Transit and your future glamping vehicle surpassed the Ford tough vehicle standards.
Outfit Your Transit
Whether you're looking for a glamping style, minimalistic Transit buildout, a class B moderate motorhome, or full on RV style vehicle, consider the outfitting options available from various companies designed in partnership with Ford. If you're ready to take the plunge and want to know what upfit is right for you, don't hesitate to ask your service professional at Borgman Ford. Your Borgman Ford upfit specialists are eager to assist in your on-the-road lifestyle.
Contact us
today — we look forward to serving you!