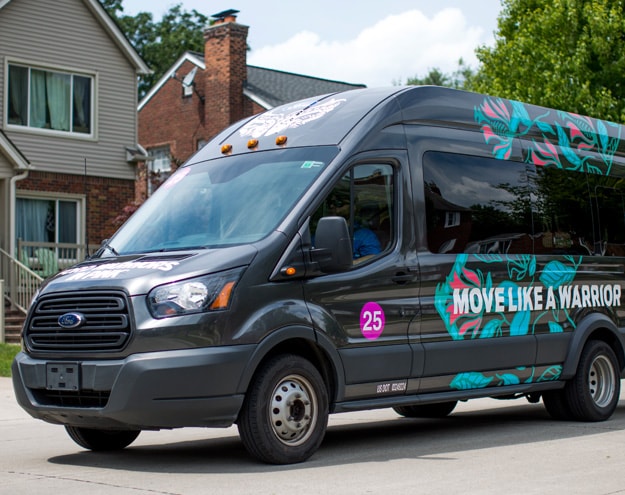 Borgman Ford is grateful to be part of such an inspiring company that reaches out their hands to help others. Ford Warriors in Pink® and GoRide Health are combing forces to make sure that breast cancer patients are able to get to their treatments with ease. They will be offering complimentary rides for cancer patients and one companion to medical appointments throughout the rest of the year! Ford's Warriors in Pink is dedicated to supporting those affected by breast cancer by helping them have better days.
These rides are available in Southeast Michigan as well as the Greater Cincinnati, Cleveland, Dayton and Toledo areas. Eligible patients will be verified first through the Warriors in Pink and then receive service through GoRide Health which has professionally trained drives to ensure the patients' safe travel and arrival.
Diagnosed with breast cancer for the second time, Stephanie M. of Detroit was hit with the primary mobility question: How was she to get to and from her appointments after post-surgery? She didn't have a way until she was connected to GoRide Health. GoRide Health uses specially upfitted Ford Transit vans to comfortably accommodate patients to get to where they need to go.
Stephanie, who is a seven-year breast cancer survivor said, "It was a huge relief for me to have a service like GoRide Health help me travel to and from my appointments. It's not just that I didn't have to worry about driving myself; GoRide also relieved me from the mental stress of asking friends and family to take off work and drive me to treatment."
Starting today, GoRide Health and Ford Warriors in Pink will be offering unlimited rides for breast cancer patients like Stephanie.
Anika Brown, chief marketing officer, GoRide Health said, "Transportation to treatment may seem like a small thing or 'a given,' but unfortunately, for many people it's not. Our collaboration with Warriors in Pink gets right to the heart of GoRide Health's purpose: To make healthcare more accessible to those who need it most, and to do so with a service built around empathy and care. Through the Warriors in Pink collaboration we'll be able to remove at least one burden from patients and families – and we'll do it with compassion."
All ride expenses are covered by Ford Warriors in Pink. They will verify eligible rides via website and phone at 833-546-7433. The Pink Fund, Susan G. Komen, and Ford dealerships will share this program information with patients in need throughout eligible hospitals.