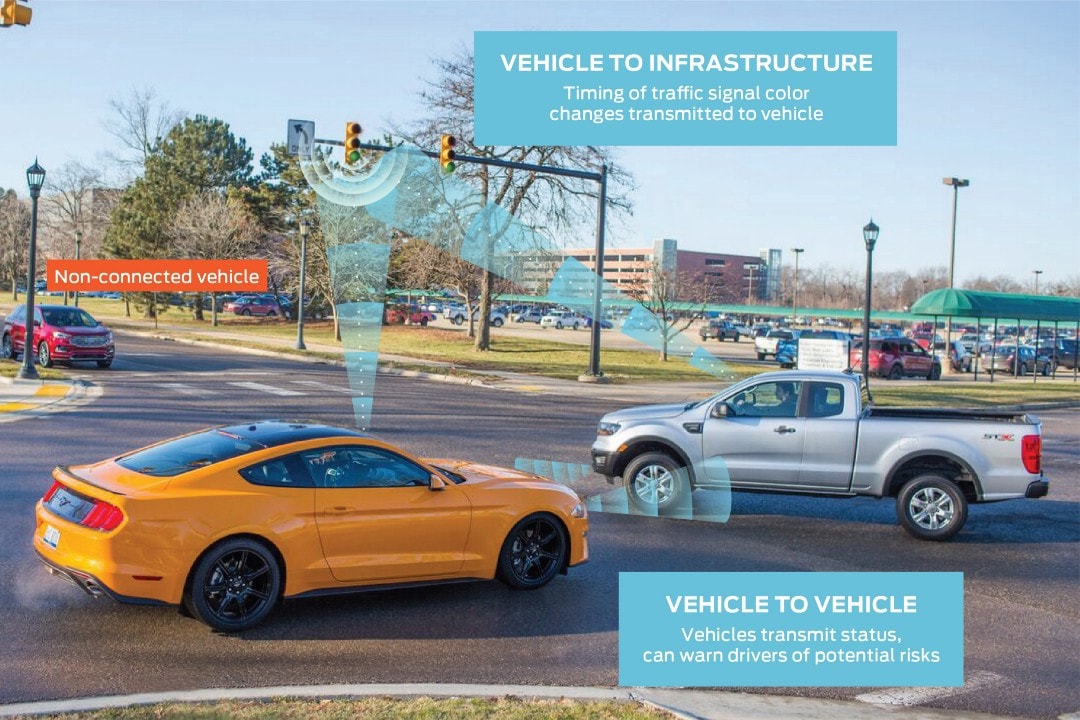 It's every motor vehicle innovator's upcoming obsession: C-V2X, or cellular vehicle to everything technology. Imagine driving in a Ford, knowing that your vehicle has the ability to communicate with other connected users on the road about traffic updates, pedestrians and bikers, and road statuses—in the long run, you (and your vehicle!) are creating a safer, more efficient environment on the road. Borgman Ford is proud to distribute vehicles from Ford, whose mission is to deliver great products and make the world a better place!

The Two Ideal Connections on the Road
There are two advancements Intelligent Transportation Society of America is working on: the first goal is to weave C-V2X innovations with other wireless technologies to allow communication between vehicles and others on the road including pedestrians and cyclists; the second is to implement a blockchain-based system that assists vehicles at intersections to negotiate efficient traffic flow. These two approaches would allow everyone on the road to have foresight about what's ahead and experience less traffic congestion.
The first goal: to allow communication between all road users. Take the following example to understand how the technology will work. It's not uncommon for drivers in busy, urban areas to overlook or miss pedestrians, scooter riders, cyclists both on the road and as they're crossing the street. With C-V2X technology, a rider with a Bluetooth-enabled phone can both send and receive information about their location to ensure it's safe to cross. Multiple wireless communication tools include Bluetooth, C-V2X equipped vehicles, and other short-range communication channels including GPS mounts, traffic signals, and cell phones.
The second goal: to reduce congestion and accidents at intersections.
In this example
, we have four C-V2X equipped vehicles approaching a four way stop—if it's dark, or in the case of future autonomous vehicles, it may get tricky gesturing to other cars or determining who has the right away. With C-V2X, each vehicle would be notified with a STOP or GO signal inside their vehicle based on who approached the intersection first. This reading and communication occurs effortlessly while working with other C-V2X infrastructure in the city.
Stay Tuned!
To perform at full potential, the C-V2X technology will have to be implemented within the grand transportation ecosystem in each city. With everyone on board, including government agencies and other automakers, all drivers, riders, walkers, and city/state/federal vehicles and services are more apt to utilize the technology. This could raise the bar for connectivity on the road—a connectivity that's committed to safety, efficiency, and stability. Borgman Ford fully supports any technology that can improve safety and performance standards, and can't wait to hear more from Ford! In the mean time,
contact us
with any inquiries or to set up an appointment to discuss the best addition to your family.
About Ford Motor Company
Ford Motor Company is a global company based in Dearborn, Michigan. The company designs, manufactures, markets and services a full line of Ford cars, trucks, SUVs, electrified vehicles and Lincoln luxury vehicles, provides financial services through Ford Motor Credit Company and is pursuing leadership positions in electrification, autonomous vehicles and mobility solutions. Ford employs approximately 202,000 people worldwide. For more information regarding Ford, its products and Ford Motor Credit Company, please visit
www.corporate.ford.com
.