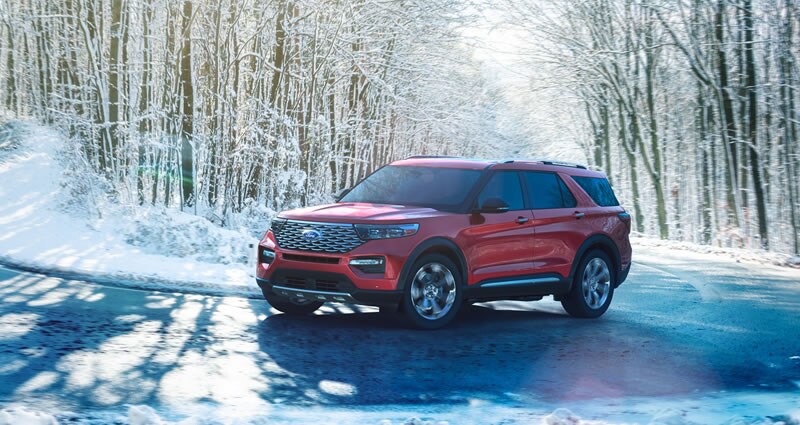 The winter weather is right around the corner for West Michigan, so if you've been thinking about getting a set of winter tires for your vehicle (or better yet, gifting someone a set for the holidays,) visit the Borgman Service Center today! Our trained experts will be more than happy to explain the benefits of using winter tires and matching them with high-quality rims that match the aesthetic of your vehicle.
However, we also believe that knowledge is power when it comes to the care of your vehicle. For our latest Borgman How-To, we've put together a Winter Tire Shopping Guide to help demystify some tire terminology, explain what all those letters, numbers, and symbols mean, and give you a better sense of what kind of tire best suits your needs.
Why Buy Winter Tires for West Michigan?
Last year we
wrote an article
that takes an in-depth look at what makes winter tires so effective. The combination of rubber that stays soft in sub-freezing temperatures, specialized tread pattern, and shape all play a role, but the overall cost savings and benefit of extra safety are undeniable.
How Do I Choose Which Type of Winter Tire To Get?
Typically, if you have a larger vehicle and do most of your driving on country roads, we'd recommend a non-studded winter tire. These don't have metal studs in them (which are illegal in Michigan) but have big treads that act like cleats and really grab into densely-packed snow. However, driving on cleared pavement with these will wear them down faster.
For the typical driver in the Greater Grand Rapids Area, Borgman will recommend Performance Winter Tires. These look like regular tires, but the tread pattern has been specifically-designed to pack snow onto the tire and use it for extra grip. If this sounds strange, think of it like rolling a snowman - snow sticks to snow pretty well, especially if it's slightly wet.
What Do All of Those Symbols and Numbers Mean In The Specs?
When shopping for winter tires, you might notice a symbol of a mountain and a snowflake pop up in the literature or on the tires themselves. This means that the tire has passed a traction test, but doesn't mean that it's a winter tire. You may also see an "M+S" next to it, meaning that it has been formulated for moderate snowy conditions.
The numbers and letters separated by slashes on the sidewall of the tire tell you what roles it's for and which size rim it needs. If this looks confusing, don't worry. The staff at Borgman will be more than happy to help you. For the curious, they note the following in this order:
Tire Type: Usually this will read "P" for passenger vehicles, but some pickups and larger SUVs will have "LT" for light truck.
Tire Width: This is the measurement if the tire width in millimeters from sidewall to sidewall.
Ratio: This is the height of the tire, measured as a percentage of the tire width.
Construction: This refers to how the layers of rubber make up the tire. "R" will mean radially and is the most common.
Diameter: This is the full measurement of the "donut hole" part of the tire.
Which Brand of Winter Tire Should I Go With?
Borgman Service inventories a wide selection of quality winter tires from trusted name brands. This includes affordable options all the way up to more premium offerings. For the budget-conscious, our affordable winter tires will still outperform all-season tires in snow and offer a lower barrier to entry. The more money you're willing to spend, you can expect even better performance and in a wider range of conditions. The bottom line is to look at what's available within your price range and choose which ones fit the needs of your commute the best. This includes how often your street gets plowed, how many hills you drive up and down, and so on.
Name brands will research and develop their own proprietary rubber compounds and tread patterns, each with their own merits. The best thing you can do while choosing is to sit down and look carefully at each of them and decide which tire best-addresses the road conditions you dislike driving in the most. If you're short on time, or aren't sure what you're looking at, the tire experts at Borgman can match you with a "good, better, best" selection for you to choose from.
The Borgman Service team will also educate you about how best to care for your tires, including the best storage environment, why dedicating a set of rims to them yields the best longevity, and how to tell when it's time to swap them with your warm weather tires.
If you're thinking about equipping your vehicle with winter tires, beat the rush and
Schedule Your Appointment
with the Borgman Service Center today! Be sure to check our latest
Service Specials
too, and feel free to
Reach Out To Us
with any questions. Come see why we're the the Best in the West!