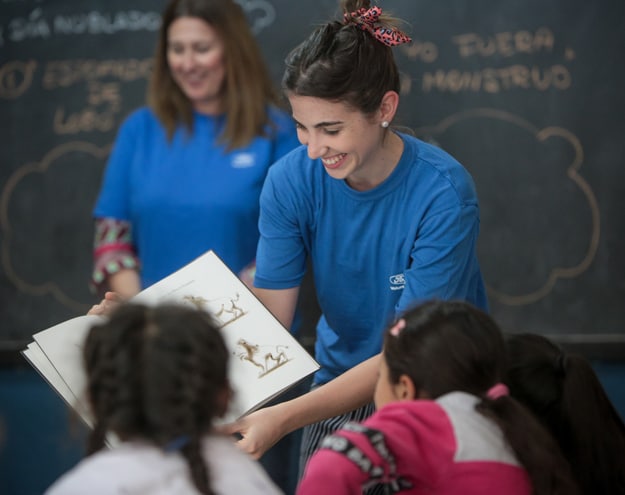 Borgman Ford couldn't be more proud to be part of a company that always has one common goal: helping people. During the Ford Volunteer Corps' annual Global Caring Month event, over 5,000 employees from Ford Motor Company join in community service projects to help better people's lives. These projects are held in 34 countries around the globe!
Emanuela Silva, analyst and Ford Human Resources in Brazil, said, "This is an opportunity for professional and personal growth. I have always been involved with volunteer work, and it is great to work at a company where a life goal of helping others is fulfilled through company initiatives."
Some of the projects included were the construct of a water facility in two Philippine villages and a workshop setup to help train women as seamstresses to earn income and even start their own businesses in Brazil.
Also in Germany, there is a continuation of a project that helps care for refugee children. These children will be given an opportunity to be part of a sports program and will in turn will help them gain confidence and make friends. The United Arab Emirates Ford volunteers in Germany will also help build toys for these refugee children.
Zeek Ainabe, Ford volunteer, Government and Community Relations, UAE, said, "The handmade toys from Ford employees will be sent to the children to put a smile on their face and not lose hope of a better future. Ford Global Caring Month is a great opportunity for employees to come together and work as a team to serve humanity for its greater good."
There are 250 Ford volunteers in Mexico that are building a playground and dining room at a home for abused and homeless children. In the course of 4 days, the kids will be provided a safe and peaceful environment to restore both their physical and emotional state, continue their schooling, and play with other children.
Berenice Perez aguilar, Ford volunteer and Communications Coach with Ford of Mexico, said, "I love helping people. For me, it is important that we multiply our efforts and make these children have a better education, life and social quality."
There are more than 500 Ford Volunteer Corps projects and activities going on around the globe. Some others include:
Australia:
Paint and garden at senior home
Update dining area at camp for homeless kids
China:
Make model cars with kids from low-income families
Spend day with Ford volunteers
India:
Training disadvantaged women with garment and tailoring design training
Guam:
Hospital cleanup and maintenance
Remove litter from village streets and bus stops
Romania:
Redecorate playroom
Add new beds at hospital pediatric oncology department
South Africa:
Renovate shelters and safe houses for abused women and children
Spain:
Construction and maintenance work at a day care center for children with disabilities
United Kingdom:
Create garden at senior center for residents. Residents will share and maintain this garden.
Todd Nissen, director of Ford Volunteer Corps, said, "Ford volunteers play a vital role in demonstrating Ford's commitment to become the world's most trusted company. We appreciate all they do to make the world a better place for everyone."
Ford will be very busy within the states too during Ford Global Caring Month. At least 10 of the states will be participating in these activities. The Ford Legal Alliance for Women plus more than 70 law firm partners within 30 states will join forces to participate in the second Global Service Day on September 26. Eight other countries will also be part of this event. Ford volunteers in Pennsylvania, Arizona, New York, and Florida will all be helping to feed the hungry. In California, volunteers will help save and restore the bay. In our very own state of Michigan, they will make improvements to a community rain garden while also mentoring students.
The Ford Volunteer Corps is the source of a large global network that gains thousands upon thousands of employees annually. Ford's Global Caring Month is the primary focus for many Ford employees and volunteers. A big thanks to everyone who continually supports Ford and its global efforts to help one another!