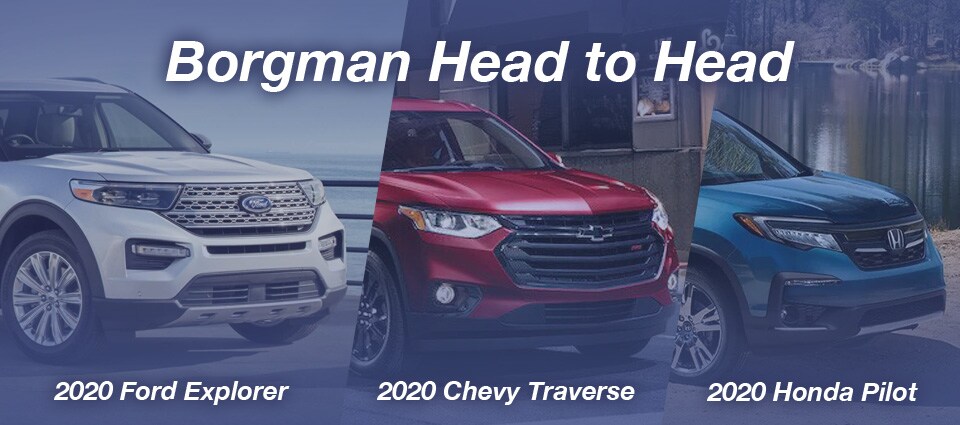 Summer is here in West Michigan, and if you're trying to decide which SUV is the best fit for your adventures, this month Borgman is taking a look at three leaders in the SUV market. Read on as we compare the 2020 Ford Explorer, the 2020 Chevy Traverse, and the 2020 Honda Pilot to help you make the best decision for you or your family. See how the 2020 Ford Explorer stacks up and if you'd like to test drive one, check out our huge selection and get in touch with us today! We'd be happy to help.
While these three vehicles are similar in a lot of ways, we feel the 2020 Explorer has some key advantages over the others for West Michigan adventurers. These include a better towing capacity, selectable drive modes for different terrain, and adaptive cruise control for long road trips. Let's take a look at how the different SUVs compare below:
Engine Options, Fuel Efficiency, and Towing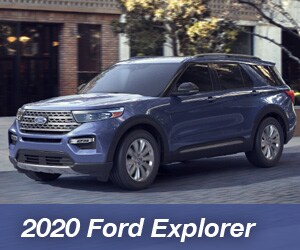 Under the hood of the 2020 Ford Explorer, you'll find a number of different engine options to choose from - each suited to a different style of adventuring. The most common engine is the 2.3L I4 EcoBoost, which balances the responsiveness of a turbo with increased efficiency. For hauling a trailer or heading off the beaten path, the Explorer Platinum or Explorer ST models come with a turbocharged 3.0L V6, with the latter producing up to 400 horsepower.

Here's where it gets really interesting: for 2020 the Ford Explorer returns to its roots with Rear-Wheel Drive, with All-Wheel drive as an available option. While the other two SUVs also feature AWD options, they are both Front-Wheel Drive standard.

If cruising around town or down the highway is more your speed, and you'd like to save on fuel, the Explorer also comes as a hybrid with a 3.3L V6 engine and a combined rating of 25mpg, compared with the 23mpg of the I4 with all-wheel drive. In addition, the 2020 Ford Explorer can tow up to 5,600 pounds when properly equipped, with towing and trailer sway control coming standard with the 3.0L EcoBoost.
The 2020 Chevrolet Traverse features just the one engine, though it's nothing to sneeze at. The Chevy 3.6L V6 produces 310 horsepower, just squeaking out the Explorer and with comparable fuel efficiency ratings. However, towing is where the Traverse powertrain falls short: about 600 pounds short in fact, with a rating of 5,000 pounds when properly equipped.

The Honda Pilot also features one engine: a 3.5L V6. Though being close to the Chevy in terms of displacement, the Honda engine produces a mere 280 horsepower and 3,500 towing capacity, though that number climbs to 5,000 with the AWD model. In terms of fuel-efficiency, the Honda Pilot is lock-step with the other two: 23 mpg combined.
Interior Features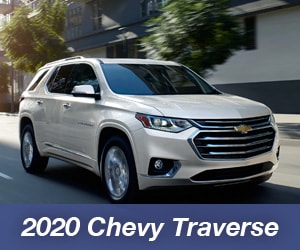 The 2020 Ford Explorer interior has seen some dramatic changes for the new model year, and they are some of the most high-tech Ford has shown to date. Ford SYNC 3 permeates the interior controls through a 10.1-inch touch screen on the center console, and a full 12.3" LCD instrument panel sits behind the steering wheel, which is customizable to your tastes.
Seating 7, the Ford Explorer also features easy-access second-row seating and with the rear seats folded down, boasts 87 cubic feet of cargo space. Other features are available such as 360-degree view cameras and tri-zone climate control to ensure everyone arrives safely and comfortably. With these features and many more, the 2020 Ford Explorer is ready for anything West Michigan can throw at it.
The 2020 Chevy Traverse boasts similar features as the Ford, albeit with not as much flash. Inside, you'll find an 8" Infotainment screen, a simulated top-down view of the vehicle to help prevent accidents while parking, back-up cam, and seating for 7. However, the Chevy Traverse may be expanded to accommodate 8 passengers with an available option. With the rear seats folded down, the Chevy Traverse also holds 98.2 cu/ft of cargo, a bit more than the Ford Explorer.
The 2020 Honda Pilot is just as generous with the tech as the other two. Their whole host of safety features comes standard, such as adaptive cruise control, lane departure warning, collision assist, and more. Though it has the smallest LCD screen of the bunch at 5", by all accounts Honda's system is polished and responsive. The Honda Pilot also seats 8, and features 83.9 cu/ft. of cargo space with the seats folded down, the smallest of the three.
Adventure-Readiness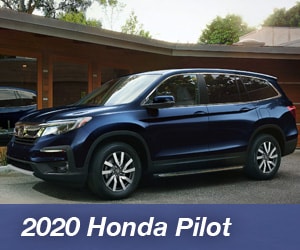 The 2020 Ford Explorer saw the return of rear-wheel drive to the model, giving it a big advantage over its front-wheel drive competitors this year. This provides a little extra "oomph" when driving down uneven trails, better handling, and an extra 600 pounds of towing capacity the Chevy Traverse and the Honda Pilot just can't match. Plus, the 2020 Ford Explorer comes available with Intelligent 4WD and Terrain Management System - an easy-to-use selectable dial that optimizes the powertrain for various conditions like sand, snow, slippery, towing, and more. You couldn't ask for a more complete adventure-ready SUV in this category.

The 2020 Chevy Traverse offers something similar, though not as robust. A dial in the center allows you to switch between FWD, AWD, Tow/Haul, and Off-Road, which means extra rear-wheel torque. The 2020 Honda Pilot gets closer, with an available All-Wheel Drive system that adapts to changing road conditions, with an override that allows you to set it to snow, mud, and sand modes.
Overall Value
The 2020 Ford Explorer starts at $32,765, making it the most expensive of the models we compared today. However, as the saying goes, you get what you pay for: the Explorer hosts the most up-to-date technology in the cabin, larger screens, more comfort, and superior power, especially important if you plan to tow a boat or a camper this summer. Plus, and maybe we're biased, but the newly-redesigned body for 2020 looks much more sleek and modern compared to the other two.
The 2020 Chevrolet Traverse starts at $29,800, making it the most affordable option compared today. Though it triumphs over the Ford Explorer in some areas, there are serious compromises in others, the biggest one being choice. The Chevy has but one available engine for this vehicle, and while it's capable in its own right, it simply can't compete with the similar-sized Ford V6 if power is a factor for you.
The 2020 Honda Pilot starts at $32,250, coming in just over $500 shy of the Ford Explorer. The Honda has its own unique strengths, it simply falls short of the Ford Explorer on engine options, cargo space, and infotainment options. It also has the lowest towing capacity of the three, but for buyers that don't tow heavy loads while adventuring, it might be worth a look.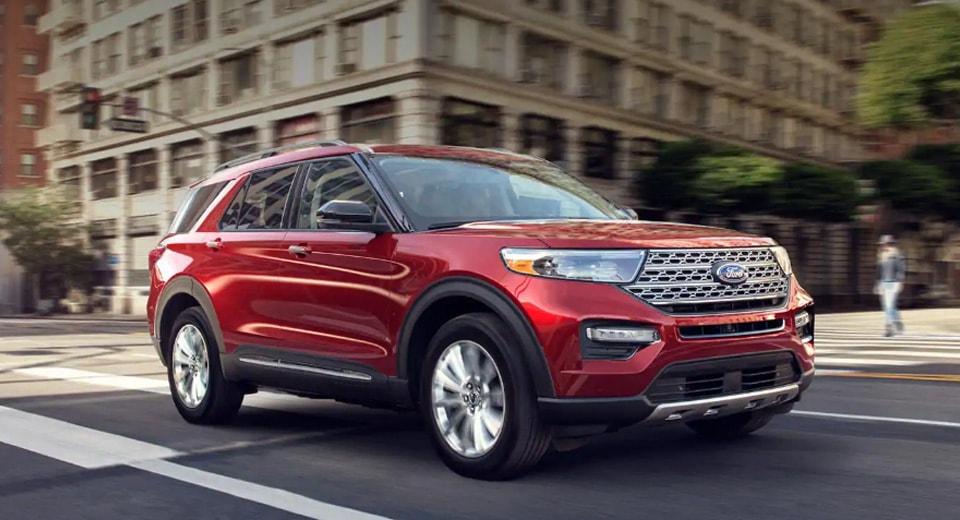 Get Out and Go Exploring at Borgman Ford in Grand Rapids MI
Having trouble finding an SUV capable enough to take you off the beaten path? Visit Borgman Ford in Grand Rapids today and test drive the all-new 2020 Ford Explorer. We promise you'll love the breathtaking new interior and exterior, complete with features you'll need for a comfortable trip. With enough power to tow a boat, camper, ATVs, or other toys weighing over 5,000 pounds plus Ford's proven reliability, we welcome you to come and experience it for yourself.
Take a look at our online inventory and use the new online buying options to get live help while you explore what we have to offer. Our team is happy to help with any questions you may have and get your deal all figured out, whether buying remotely or in our showroom. Remember, if you see a better deal elsewhere, let us know and we'll match it. Come see why we've been the Best in the West for over 60 years!