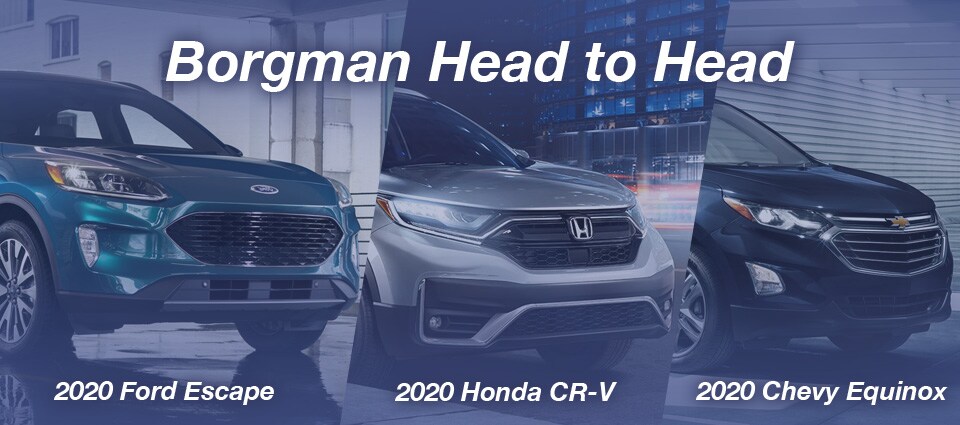 Getting ready for summer adventures in West Michigan and not sure which SUV to choose? Borgman is comparing the 2020 Ford Escape, the 2020 Chevy Equinox, and the 2020 Honda CR-V to help you make your decision. We'll go head to head on key features of each and show how the 2020 Ford Escape stacks up. If you'd like to test drive the new Ford Escape for yourself, check out our huge selection and get in touch with us today! We'd be happy to help.
While these three vehicles are similar in a lot of ways, we feel the 2020 Escape has advantages in all the right areas, namely in towing capacity and overall design. It's sleek, yet boasts more power for trekking your way through West Michigan's dirt roads and campgrounds with enough cargo space for whatever gear you need to bring along. Plus, with new hybrid options including a plug-in variant, fuel-conscious shoppers don't have to compromise either. Let's get started!
Engine Options, Fuel Efficiency, and Towing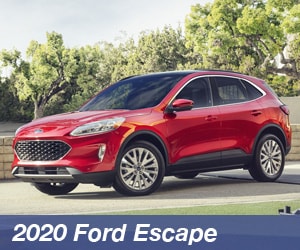 There are two standard turbocharged engines in the 2020 Ford Escape lineup: the 1.5L EcoBoost and 2.0L EcoBoost engine. The first delivers spirited performance with an estimated 27 City and 33 miles per gallon highway mileage, with the bigger 2-liter engine capable of towing up to 3,500 pounds. The Chevy Equinox matches the Escape's engine displacement with their own 1.5L and 2.0L, both turbocharged as well. The Chevy Equinox's larger engine is also capable of towing 3,500 pounds but with the smaller 1.5L coming up short on efficiency with an estimated 31 mpg highway. The 2020 Honda CR-V offers one engine: their 1.5L turbocharged engine, with a hybrid option available as well, and edging the others out with an estimated 34 mpg highway. However, the Honda CR-V uses a CVT transmission which gives it an edge on fuel efficiency, it may be the reason for the CR-V's 1,500 towing capacity.
Interior Features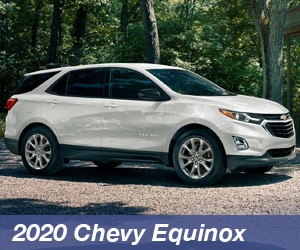 ?For 2020, the newly redesigned Ford Escape comes with a host of new interior features worth celebrating, including a standard WiFi hotspot. CoPilot 360, Ford's suite of safety features, also comes standard. The available SYNC 3 infotainment system, 8" screen, Apple CarPlay and Android Auto, and many other features are there for you to explore as well. You can even upgrade to the 12" display you'll find in the 2020 Ford Explorer, wireless phone charging, B&O stereo system, and WAZE integration.
The Chevy Equinox and Honda CR-V offer similar features, though not nearly as many are standard. Both feature a 7" screen standard, but one interesting standout was the Bluetooth wireless communication in the Chevy Equinox can handle two devices at once - something that's invaluable for frequent passengers or someone with both a work and personal phone. Both vehicles feature their manufacturer's own infotainment operating systems.
Cargo Space & Adventure-Readiness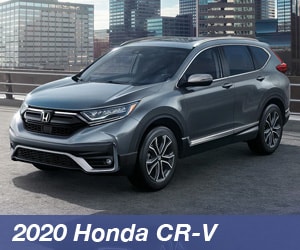 The 2020 Ford Escape is the ultimate companion for adventuring in West Michigan. Though light on its feet, All-Wheel Drive is available on standard and hybrid models, with the only exception being the plug-in hybrid model.
With the seats folded down, the Escape boasts 65.4 cubic feet of cargo space - plenty of room for water skis, wakeboards, camping gear, or anything else you need for your summer excursions.
The Chevrolet Equinox and Honda CR-V also feature available All-Wheel Drive options. The Chevy sports 63.9 cu/ft of cargo space with the seats folded down versus the Honda CR-V's 75.8 cu/ft, making it the clear winner in this category.
Overall Design and Value
The 2020 Ford Escape starts at $24,885, with an impressive new, sleek, and contoured exterior design. Though the Chevy Equinox is priced at a slightly lower $23,800, the Escape triumphs with many more features included standard. The 2020 Honda CR-V starts at $25,050, and while the difference is close and the CR-V does have more cargo space, bear in mind the CR-V comes with fewer choices and less than half the towing capacity.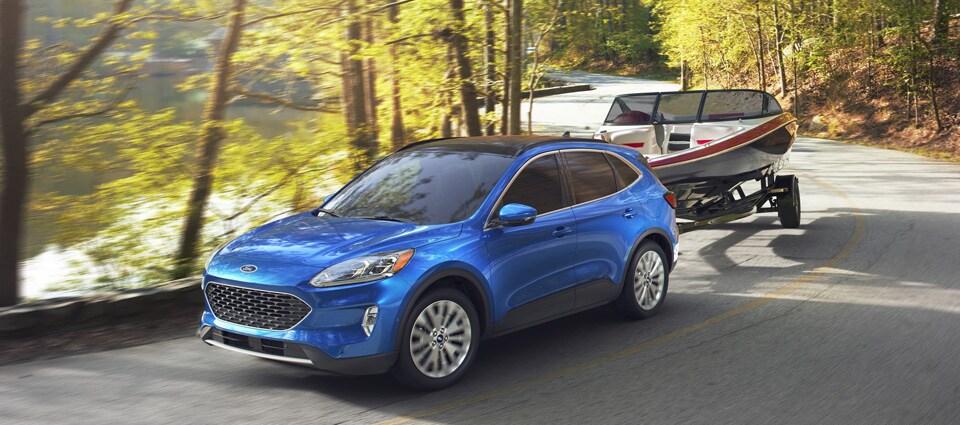 Choose Your Adventure at Borgman Ford in Grand Rapids MI
Can't decide which vehicle you want to take you on your summer journeys? Visit Borgman Ford in Grand Rapids today and test drive the all-new 2020 Ford Escape or Escape Hybrid. We promise you'll love the sleek new look and standard features you need for a comfortable trip. With enough power to tow water toys, dirt bikes, or an ATV and Ford's proven reliability, we welcome you to come and experience it for yourself.
Take a look at our online inventory and use the new online buying options to get live help while you explore what we have to offer. Our team is here to answer any questions you might have and get your deal squared away, whether you'd like to buy remote or visit our lot. Remember, if you find a better deal somewhere else, let us know and we'll match it. Come see why we've been the Best in the West for over 60 years!