Full-Size Ford Transit - Commercial Van in Grand Rapids, MI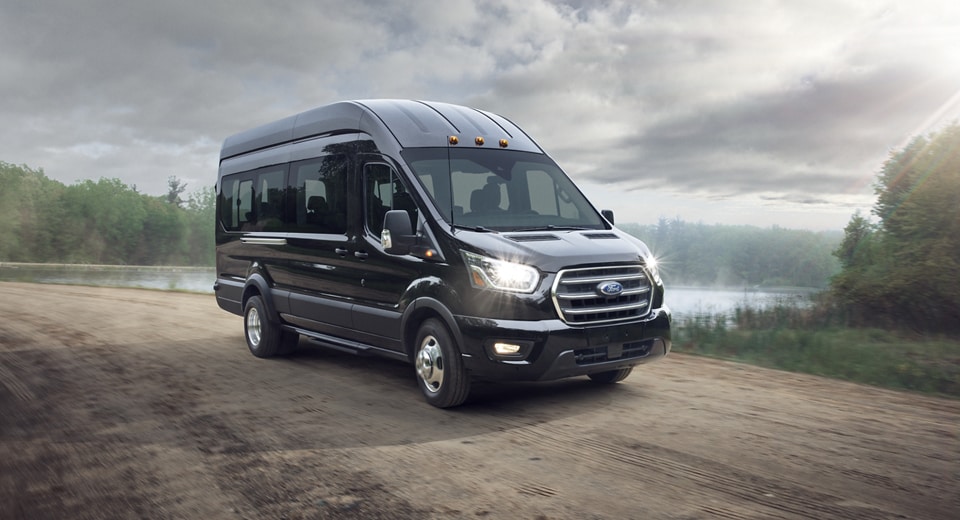 The New Ford Transit is completely reconstructed, yielding lightweight yet durable unibody construction. Going beyond the typical vehicle redesign, it features five wheelbases, three roof heights and four models including cargo van, passenger wagon, chassis cab and cutaway. The new Transit is a major transformation in the full-size van you've been accustomed to driving.
Get a peak with the video below and then read about the features to see how a new Transit from Borgman Ford can help your commercial business.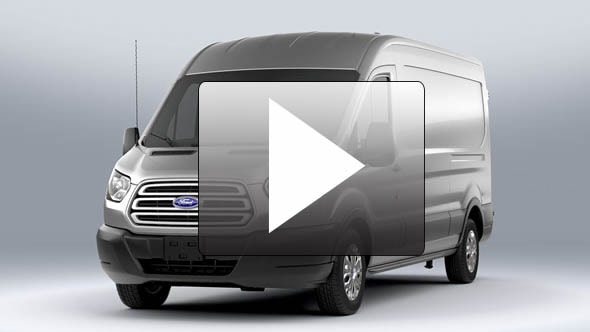 Engineering
Every transit is equipped with Unibody Construction, making the body lightweight and highly durable, engineered with high-strength and boron steel.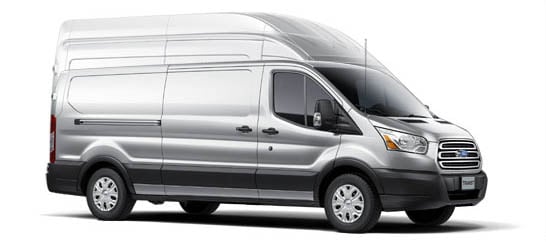 Three Roof Heights
Now you can match multiple cargo box sizes designated in roof height - low, medium or high - to the volume or payload your job requires. Imagine a cargo volume over 490 cubic feet - and a roof tall enough to accommodate large items in an upright position.


Range of Wheelbases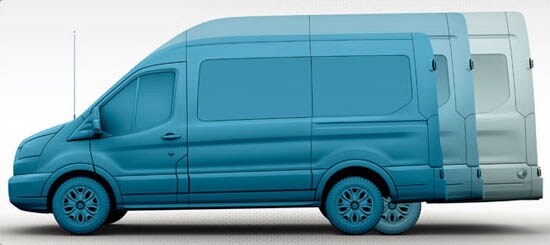 Ford Transit van and wagon models come in regular (130-inch) and long (148-inch) wheelbase lengths. There's also a long wheelbase with extended body. Chassis cab and cutaway models offer three wheelbases: 138, 156 and 178 inches. This extended range gives plenty of choices in load floor length for increased capacity in the cargo van and more passenger space in the wagon, and the ability to accommodate a range of body types and sizes in chassis cab and cutaway models.

Four Model Configurations
The Ford Transit is available in four models: The spacious, capable van. The roomy, comfortable wagon. The rugged and versatile chassis cab. And the cutaway with convenient direct cab-to-body access. From hauling cargo to transporting passengers, the Ford Transit does it all.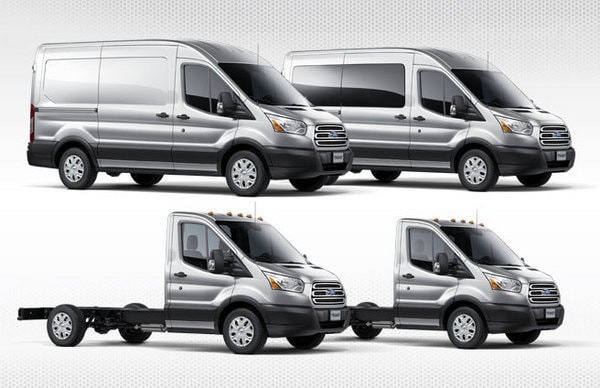 Capability
Whether you're an independent owner-operator or the manager of a corporate fleet, the Transit is designed to maximize cargo space for carrying large volumes and heavy payloads.

The New Transit has a Wide GVWR Range from 8,600 to 10,360 pounds, which means excellent payload capacity.

Van Capacities
The Transit offers a wide range of cargo volumes and payload capacities to match the loads you need to carry on your job. Choose from two wheelbases (regular and long), a long wheelbase/extended body model, and three roof heights. And because no two applications are the same, the Transit offers a wide array of available cargo management options you can customize to your particular application, from storage cabinets to dividers, drawers and more.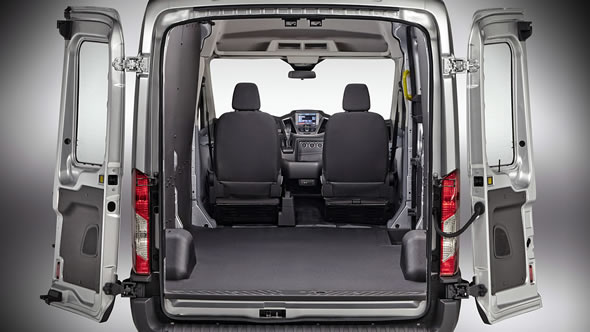 Wagon Seating
Carrying people in comfort is the specialty of the Transit Wagon. The regular-wheelbase Transit comes in a standard 8- or available 10-passenger model. For commuting applications like carpooling and airport transportation, the Transit Wagon long-wheelbase model provides standard 12- or available 15-passenger seating while the long wheelbase with extended body seats 15. Available is a high-roof model that will accommodate someone standing 6-ft./5-in. What's more, there are a variety of versatile aisle seating configurations available to match your specific needs.
Power
In addition, the new Transit offers a line of three available advanced engines that are designed for the balance of power and efficiency to match your specific requirements. With these new engines, you are able to achieve powerful operations as efficiently and cheap as possible.

The 3.7L Ti-VCT V6 delivers excellent efficiency along with responsive performance. Twin independent variable cam timing (Ti-VCT) technology is an advanced-design feature of the 3.7L. Ti-VCT allows for variable control of the intake and exhaust camshafts, optimizing combustion at full load to increase power and low-speed torque. It also enables variable valve overlap, which enhances efficiency and improves cold-start operation with lower exhaust emissions. The 3.7L is E85 flexfuel capable, so you can run on unleaded gasoline, E85 (up to 85% ethanol and 15% gasoline), or any mix of the two. Fuel injection and spark timing are adjusted according to the blend detected by electronic sensors. And a CNG/LPG Gaseous Engine Prep Package for power conversion to compressed natural gas (CNG) or liquid propane gas (LPG) is available for those looking to help cut fuel costs.

The EcoBoost® 3.5L V6 combines the technologies of direction injection (DI) and turbocharging. DI delivers a precise, fine mist of fuel directly into each cylinder, unlike conventional port fuel injection that sprays into the intake system. The two small turbochargers spool up to their operating speeds quickly, kicking in on demand to provide a surge of responsive power when needed. The turbochargers and direct injection combine to produce impressive torque output early in the rpm range.

Severe-service applications like courier and transport duty call for an engine to run many hours a day under constant idling and stop-and-go conditions. The answer: the available direct-injected 3.2L Power Stroke® inline 5-cylinder turbo diesel. A precise amount of fuel is injected directly into each cylinder to optimize efficiency, while turbocharging delivers responsive power on demand. This Transit engine option is designed to help give you the right balance of power and efficiency, plus proven Ford diesel ruggedness and dependability.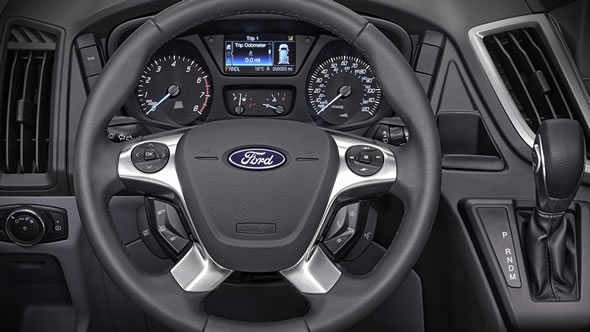 Every Transit engine gets a 6-Speed SelectShift Automatic Transmission designed for low-end  acceleration and high-end efficiency. And you can use one shift of two modes of operation: Progressive Range Select lets you toggles on the shift lever to reduce the range of available gears while in Drive. Or choose Full Manual function that lets you pull the shift lever into "M" for manual mode and use the same toggle switch to select the gear desired.
Productivity

Cargo Door Configurations
Transit low-roof models come with passenger-side 60/40 hinged cargo doors, while the medium- and high-roof models have a passenger-side sliding cargo door. If your job calls for working from both sides, dual sliding side cargo doors are available on vans. The rear hinged 50/50 cargo doors swing open 180 degrees on the 130-inch wheelbase models and 270 degrees on the 148-inch wheelbase models. The standard step bumper makes getting in and out of the cargo area easy. And the rear doors are fitted with high-visibility reflective strips on the door edges and at the inside edge so that they can be easily seen when the doors are open.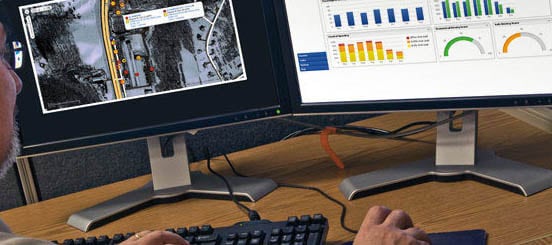 Ford Telematics powered by Telogis®
Keep your fleet on the road instead of idling in the garage. Ford Telematics powered by Telogis® helps track your fleet of Ford trucks and can assist you in everything from realtime vehicle maintenance alerts to routing.
     - A GPS-enabled "black box," mounted inside your vehicle, records and processes a wealth of useful information - from current location, speed and fuel economy to airbag status and oil life remaining. Ford Telematics uses this data to create helpful reports and real-time alerts for metrics that are important to your bottom line.
     - Ford Telematics can monitor driver safety belt usage and real-time diagnostic alerts; other functionality includes satellite imagery, geofencing, and account hierarchies.* And it does all this while your vehicles are on the road.

Advanced Technology
Ford Transit offers advanced technology to assist you in the everyday tasks of driving. Take, for example, the available Ford SYNC® System. Access mobile communications, entertainment, directions and travel information using touch-sensitive buttons or simple voice commands. Another driver-assist feature is the available Lane-Keeping System which can warn you if its sensors detect you're drifting out of your lane.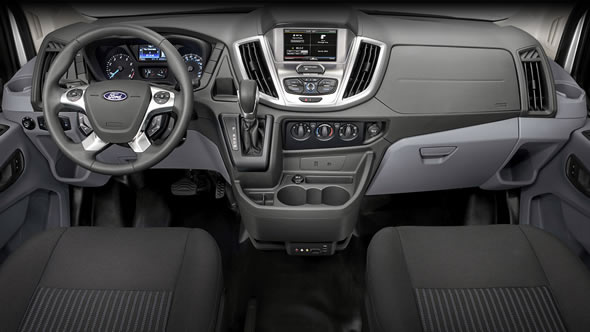 Modern Interior
While the Transit exterior shows the energy in motion influence of the Ford kinetic design, the interior is equally dynamic with its driver-focused attitude. The driver's seat is adjustable to several positions, and the steering wheel tilts and telescopes - to provide the most comfortable position for any driver. The modern, car-like instrument panel features ergonomic gauges and controls that are easy to read and reach. There's plenty of storage space as well for carrying a wide assortment of travel items from coins and pens to sunglasses and beverages.
See our full selection of New Ford Commercial Transit Work Vans & Wagons
COVID-19 Resources
Sales Hours
Monday

9:00AM - 8:00PM

Tuesday

9:00AM - 6:00PM

Wednesday

9:00AM - 8:00PM

Thursday

9:00AM - 6:00PM

Friday

9:00AM - 6:00PM

Saturday

10:00AM - 3:00PM

Sunday

Closed
How Can We Help?
* Indicates a required field
Borgman Ford Mazda

3150 28th Street SW
Grand Rapids, MI 49418


Borgman Ford

3150 28th St SW
Grand Rapids, MI 49418


Borgman Auto of Holland

11143 Watertower Ct
Holland, MI 49424


Borgman Mazda

3150 28th Street SW
Grand Rapids, MI 49418

Visit us at: 3150 28th Street SW Grand Rapids, MI 49418