New Ford F-650 and F-750 Medium Duty Trucks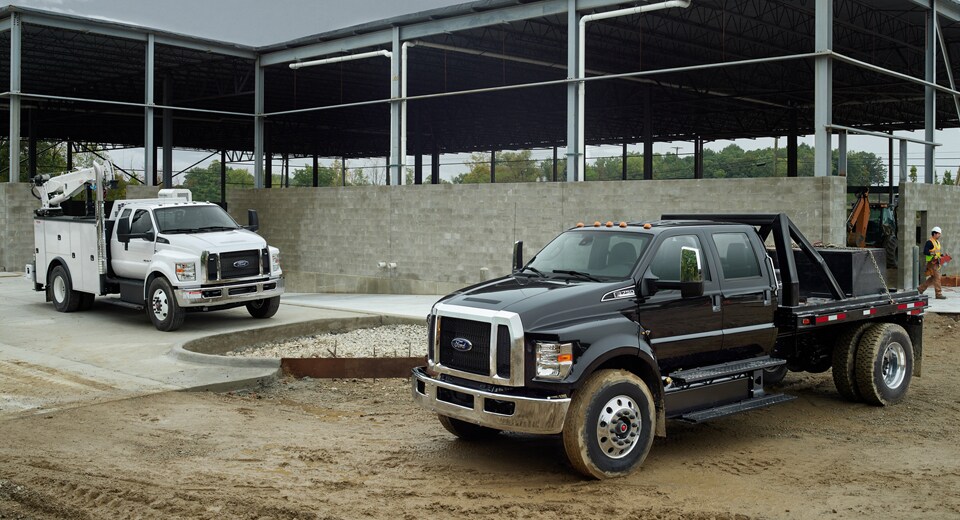 Big Capability For Your Toughest Jobs.
At Borgman Ford Commercial in Grand Rapids, MI, you'll find endless configuration possibilities on the Ford F-Series Medium Duty Trucks for your business needs. We invite you to explore the F-650 and F-750 trucks' impressive maneuverability, flexible powertrain options, tough-as-nails axles and frame, upfit-friendly chassis and cab options, and more!
GVWRs range from 20,160 to 37,000 lbs. Front axle ratings go up to 14,000 lbs. And rear axles go as high as 26,000 lbs. Regular Cab, SuperCab or Crew Cab, there's a F-650/F-750 just right for you.
New and Improved Interior - A Better Way To Do Business.
New Ford Medium Duty Trucks feature 3 different cabs to choose from plus, a whole array of seating options and configurations. Experience the comfortable driver and front-passenger air-ride seats, check out the wide-open doors, explore features of Ford SYNC, and experience the quietest cab yet with 45% less noise than the previous generation.
Other interior features include Ford's 12-volt powerpoints and 110-volt power outlets - designed to keep your mobile phones and tools charged up and ready to go. In addition, the oversized glove compartment helps keep your manuals, schedules and other small items right where you need them.
Upfitting with Accessories Made Easy.
In order to make sure your aftermarket accessories are easy to use, function properly and don't look "hacked" into a spot in the cabin, you can order your New Ford Medium Duty Truck with four upfitter switches integrated right into the instrument panel. These switches are pre-wired into the electrical system, so there's no need for upfitters to splice-into the truck's wiring. These switches are available with 10, 15, 20, and 25 amp fuses and relays, and perfect for easily toggling winches, lights, strobes, and so much more.
Ford Tough Gas or Diesel Engines with Alternative Fuel Options Available.
The New Ford F-650 and F-750 Medium Duty Trucks come with your choice between two powerful engines: the 6.8L Triton V10 Gas Engine, and the 6.7L Power Stroke Turbo Diesel. Since both of these engines are available on both the F-650 and F-750, Ford is the only Class 6-7 truck manufacturer that offers a choice between gasoline and diesel.
On top of that, if going green and saving green is a priority, Ford has made both of these engines to be easily-modified to accept alternative fuels, such as Propane, Compressed Natural Gas, and B20 Bio-Diesel.
The Class-Exclusive 6.8L Triton V10 Gasoline Engine produces an impressive 320 horsepower and 460 lb/ft. of torque, and by contrast the 6.7L Power Stroke Turbo Diesel outputs 330 hp and 725 lb/ft. of torque. Both engines come equipped with the Ford-designed TorqShift HD 6-Speed automatic transmission, with available power takeoff provision for delivering up to 300 lb/ft. of stationary torque and 200 lb/ft. of mobile torque to your accessories.
Learn More About Ford Medium Duty Trucks at Borgman Commercial.
The best place to explore the capabilities and features of Ford F-650 and F-750 Medium Duty trucks is by visiting the Borgman Ford Commercial Vehicle Center in Grand Rapids, MI. Here, our highly knowledgeable and experienced staff will listen carefully to the needs of your business, and make recommendations as to what configurations and options you'll need to get the job done. Then, we'll make sure your new work truck is expertly-upfitted at one of out trusted partners in West Michigan, and delivered to you job-ready per your specifications. To get started, please feel free to Contact Us or stop by for a visit! 
COVID-19 Resources
Sales Hours
Monday

9:00AM - 8:00PM

Tuesday

9:00AM - 6:00PM

Wednesday

9:00AM - 8:00PM

Thursday

9:00AM - 6:00PM

Friday

9:00AM - 6:00PM

Saturday

10:00AM - 3:00PM

Sunday

Closed
How Can We Help?
* Indicates a required field
Borgman Ford Mazda

3150 28th Street SW
Grand Rapids, MI 49418


Borgman Ford

3150 28th St SW
Grand Rapids, MI 49418


Borgman Auto of Holland

11143 Watertower Ct
Holland, MI 49424


Borgman Mazda

3150 28th Street SW
Grand Rapids, MI 49418

Visit us at: 3150 28th Street SW Grand Rapids, MI 49418