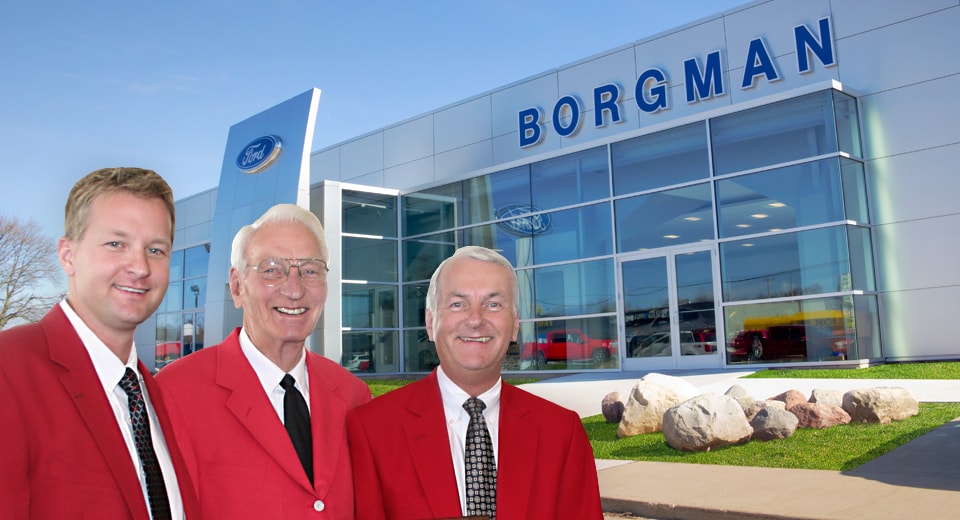 Fred Borgman's Legacy

Fred Borgman was the visionary who brought "Red Coat" service and "fair and square" dealings to the Grand Rapids auto sales market 52 years ago. He had two objectives when he went into business. One, he wanted to prove a business can operate under the golden rule. Two, he wanted to upgrade the reputation of auto dealerships.

"We're proof that both objectives can me met," he said at Borgman Ford's 50th Anniversary celebration in 2010.

When he bought the dealership in 1960, salesmen, mechanics, and body men all worked on commission. The first thing he did was change that by putting everyone on a guaranteed salary. He made the business employee-oriented and cut down the turnover. His intent was to show the customers that his dealership has reliability; they can come back year after year to the same salesman or mechanic.

"Red Coat" service was conceived one day while Mr. Borgman was sitting in a restaurant and he noticed that all the waiters and waitresses were wearing red vests, which made them highly visible. "Home of the Redcoats" was born.

"It's not a gimmick," Borgman would explain.

The intention was that his sales people could be spotted immediately and customers could get help.

Borgman's intention was to keep it a class dealership, and he credited his staff with much of its success. Although Fred Borgman passed away in 2012, his legacy continues at Borgman Ford Mazda, where his spirit will remain an inspiration.



COVID-19 Resources
Sales Hours
Monday

9:00AM - 8:00PM

Tuesday

9:00AM - 6:00PM

Wednesday

9:00AM - 8:00PM

Thursday

9:00AM - 6:00PM

Friday

9:00AM - 6:00PM

Saturday

10:00AM - 3:00PM

Sunday

Closed
How Can We Help?
* Indicates a required field
Borgman Ford Mazda

3150 28th Street SW
Grand Rapids, MI 49418


Borgman Ford

3150 28th St SW
Grand Rapids, MI 49418


Borgman Auto of Holland

11143 Watertower Ct
Holland, MI 49424


Borgman Mazda

3150 28th Street SW
Grand Rapids, MI 49418

Visit us at: 3150 28th Street SW Grand Rapids, MI 49418