B-Xpress Guided Digital Buying Experience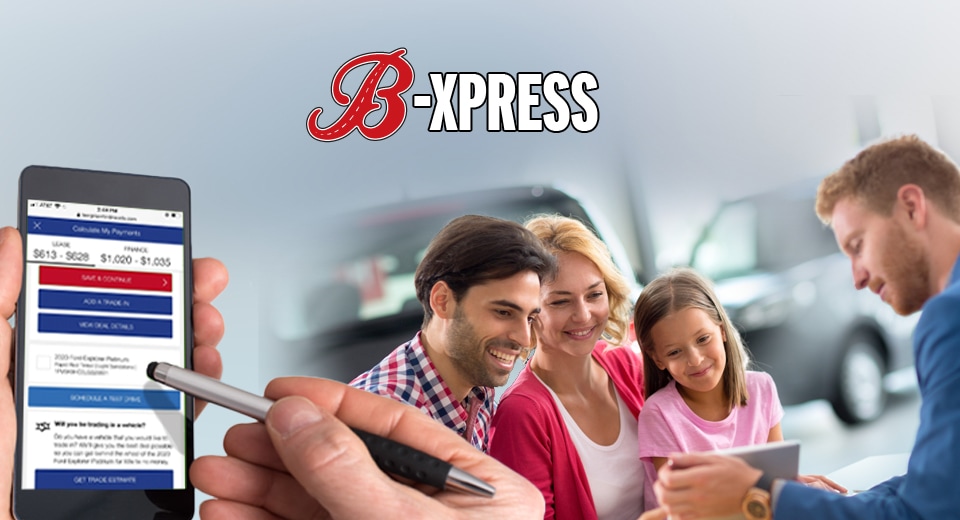 Fast. Easy. Informed Buying Options.
Want to explore purchase options, financing, and spend less time on paperwork? Borgman Ford Mazda is making it easy to research, ask questions, and even make a purchase without having to leave the comfort of your own home. Check out our new 
B-Xpress
 Digital Guided Buying experience. You can play with payments and incentives, value your trade, save your work, and then come in for a test drive. OR you can complete your entire deal online!
Personalized Help.
We've combined the convenience of online shopping with the personal guidance of our professional "red coat" representatives to give you the best combination of online auto shopping and personalized service possible. You can explore as much - or as little - as desired online, then chat with one of our pros. You can save your work to fast-track an in-store purchase, or buy entirely online. You're in control.
Whether online or on the lot, we're here to help you navigate all the incentives and options to make the best buy for your needs. B-Xpress is one more reason that Borgman is the Best in West!
Chat with a Real Sales Rep Online 
You can get LIVE assistance at any point in the process, from scheduling a test drive to figure out which incentives apply to your circumstances. Our team is at your service!
Explore Payment Options 
Leasing, financing, downpayment, rebates, trade-ins - whatever you're considering in your next vehicle purchase, find this information online to expedite your decisions and buying process. 
Value Your Trade-In
Get real-time valuation of your trade-in and apply it to your deal.
Choose an Extended Service Plan (ESP) 
If you're considering an ESP for your new or used vehicle purchase, look no further than our new Borgman Protect website, where you can find all the details on every Ford ESP. 
Complete Paperwork 
Skip the lines and forgo the hassle of pen and paper-do all your paperwork prior to purchase digitally. Your final drive to the dealer to purchase has never been more hassle-free!
Buy Online 
Do it all with the help of our service professionals that are the Best in West Michigan before you drive to the lot to pick up your new vehicle!
Contact Us with any questions - we're ready and happy to help guide you through our new digital buying process! 
COVID-19 Resources
Sales Hours
Monday

9:00AM - 8:00PM

Tuesday

9:00AM - 6:00PM

Wednesday

9:00AM - 8:00PM

Thursday

9:00AM - 6:00PM

Friday

9:00AM - 6:00PM

Saturday

10:00AM - 3:00PM

Sunday

Closed
How Can We Help?
* Indicates a required field
Borgman Ford Mazda

3150 28th Street SW
Grand Rapids, MI 49418


Borgman Ford

3150 28th St SW
Grand Rapids, MI 49418


Borgman Auto of Holland

11143 Watertower Ct
Holland, MI 49424


Borgman Mazda

3150 28th Street SW
Grand Rapids, MI 49418

Visit us at: 3150 28th Street SW Grand Rapids, MI 49418