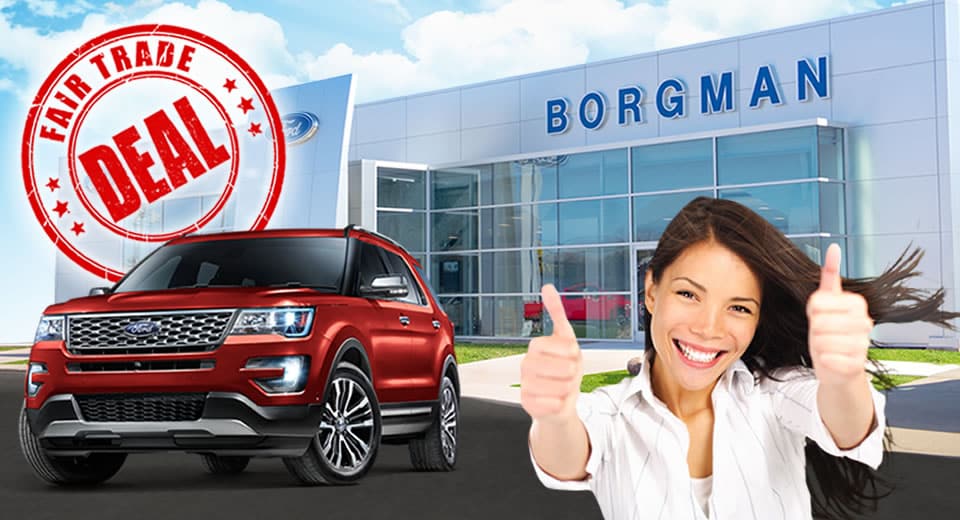 Treating Customers Right is a Borgman Family Tradition
Borgman has been giving auto shoppers in Grand Rapids and West Michigan fair trades since we opened our doors almost 60 years ago. When Fred Borgman founded the dealership back in 1960, the concept of being honest and transparent with his customers served as the cornerstone of the business. Fred outfitted his sales team with red sports jackets to make them more visible - and therefore accountable - around town. Soon, Borgman became known as "The Home of the Redcoats," which was synonymous with friendly, professional, and transparent conduct.
Times have certainly changed since then, but our dedication to Fred Borgman's vision has not. Borgman Ford Mazda is still family-owned and operated, with Fred's grandson Matt sitting as General Manager and ensuring that everyone who visits is treated with respect.


What is a Borgman Fair Trade Deal?
When we say we give everyone a "Fair Trade Deal," here's exactly what we mean: when you bring your current vehicle to us, we offer you what it's worth. It doesn't matter if you intend to trade it for a new vehicle or sell it outright - the number is the same. No low-balling, "x-over-your-trade" shenanigans, predatory guaranteed-approval-style lending, or bull. Here's an excerpt from a review someone left us on Google:
"Worked with them on my last 2 vehicles. Extremely knowledgeable and friendly throughout the entire process. I priced out the same vehicles at 2 other dealers and Borgman beat them both in price and trade in amount."
Below are some of the practices we don't engage in and why.
Here's The Deal With Those Minimum Trade-In Offers You Hear About
We hear the "get (thousands) extra on any trade" offer quite a lot. What usually happens is the dealer will shuffle numbers around to make it work in their favor.
According to this story on AutoNews.com
, a woman visited a dealership after seeing an ad promising $3,500 extra for her trade. Her current vehicle didn't have much value, so the dealership made their losses back by adding $3,500 to the price of the vehicle she was buying. What's worse, a condition of that program prohibited her from negotiating the price. Then, she was saddled with a 14.95% interest rate and didn't feel that this was made clear to her while in the finance office, resulting in a lawsuit.
Always check the fine print on any ads like these, because dealerships may put all sorts of stuff in there to legitimize a financing a shell game. If you look at the Better Business Bureau's advertising guidelines for West Michigan, they actually frown upon the practice of advertising a flat minimum trade value -
see Item 15 on Trade Allowances
or
read this article on Mlive.com
for more information.
Watch Out For Predatory "Guaranteed Credit Approval" Ads
We've all seen or heard these types of advertisements: "Bad Credit? NO Credit? If you make $xxx per month, our lenders can get you APPROVED!" Sound a little too good to be true? According to this page on
AutoCheatSheet.com
, it often is. Here's what they had to say about guaranteed financing offers:
In some states, it's legal to advertise Guaranteed Credit Approval. These dealerships will blanket advertise they can get anyone approved. Approvals from these types of companies usually require very large down payments and they limit you to only one or two high-profit vehicles. The vehicles a dealer acquires for these types of programs are normally of poor quality. There are many avenues a dealer can take when attempting to sell you a specific car you really don't want to buy. Here are a few examples:


"The car doesn't matter. You're not buying a car, you're buying an opportunity to re-establish your credit."


"I only have one car I can approve you for, but it's a nice one!"


"I know it's not the car you want. Just make payments for 6 months, come back, and you can trade it for a vehicle you want."


"You won't be able to get approved for a car anywhere else. We got you approved for this car and you can drive it home today."
At Borgman, this will never happen. Our financing department will work to give you the best deal we possibly can, and we refuse to engage in these misleading practices. If you'd like to read more about auto loans in Michigan, the Department of Insurance and Financial Services put together a handy guide to keep buyers informed. You can
download the PDF on Michigan.gov
.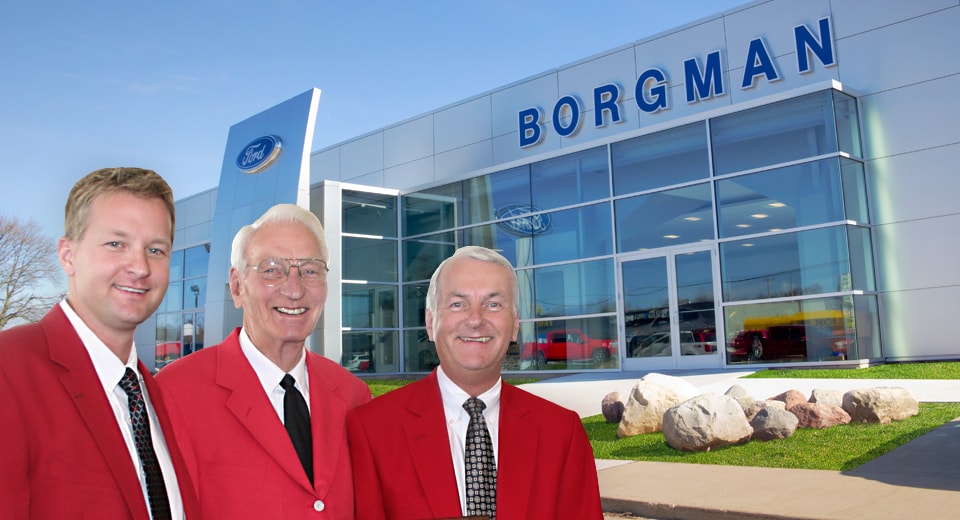 Borgman Keeps The Car-Buying Process In West Michigan Honest & Transparent
First and foremost, our business operates under the Golden Rule. We treat every customer that visits us as if they were family, and we ensure that they understand what's in front of them before making decisions.
We don't participate in the types of "deals" mentioned here. They're gimmicky and needlessly complicated at best, and immoral and predatory at worst. We don't employ any high-pressure tactics or goad you into signing a deal that you don't feel comfortable with. We strive for 100% satisfaction on all aspects of the car-buying process and we completely understand if you need time to consider your options.
If you're in the market for a New Ford or Mazda and want to make sure you don't get the runaround, take a look at
Our Online Inventory
and visit us to test drive your favorite! We'll always give you a Fair Trade Deal on your current vehicle, and we will not be undersold. Come see why Borgman is the Best in the West!
COVID-19 Resources
Sales Hours
Monday

9:00AM - 8:00PM

Tuesday

9:00AM - 6:00PM

Wednesday

9:00AM - 8:00PM

Thursday

9:00AM - 6:00PM

Friday

9:00AM - 6:00PM

Saturday

10:00AM - 3:00PM

Sunday

Closed
How Can We Help?
* Indicates a required field
Borgman Ford Mazda

3150 28th Street SW
Grand Rapids, MI 49418


Borgman Ford

3150 28th St SW
Grand Rapids, MI 49418


Borgman Auto of Holland

11143 Watertower Ct
Holland, MI 49424


Borgman Mazda

3150 28th Street SW
Grand Rapids, MI 49418

Visit us at: 3150 28th Street SW Grand Rapids, MI 49418