Borgman Day Trader Program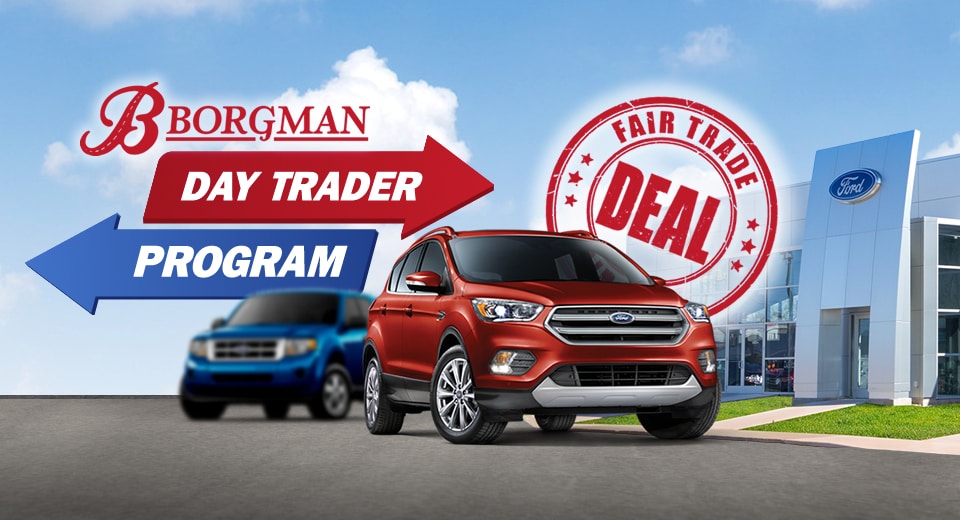 Swap Rides With Borgman For A Day
Borgman is pleased to announce a new way to test drive your next vehicle in West Michigan: The Borgman Day Trader Program! Now, Grand Rapids auto shoppers that want to be sure a vehicle is good fit for them will have the option of trading vehicles with us for a day.
On a normal test drive, you're checking initial properties like acceleration, braking, interior layout, and the general feel. It is a sample the overall experience, and for many, this gives them enough information to make their decision.
However, there's nothing wrong with wanting more information - in fact, we encourage it. Our goal is 100% satisfaction, and we want to ensure that you absolutely love the vehicle before you make the decision to buy. 
That's why we introduced the Borgman Day Trader Program. It allows you to truly experience what the vehicle can offer by going through the paces of your typical day. 
Here's how it works: After you've decided on the vehicle you'd like to try out, You'll be able to drive on familiar roads, see how it fits around your home, get into and out of parking spaces, into and out of the vehicle a few times, see the illuminated controls after dark, or other little things that are easy to miss during a test drive.
While you're out kicking the tires so to speak, we'll take a look at your trade-in. That way if you come back ready to make the switch, that time-consuming part of the transaction is already handled.
If you come back with some things you didn't like about the vehicle, don't be shy and let us know! There may be packages or options for that vehicle that address your concerns, or we can recommend other vehicles that suit your needs better.
A Better Way To Test Drive
If you feel more comfortable trying something before you buy it, stop by or fill out the form below to become a Borgman Day Trader! We do require test drivers to be 21 or older, have a valid driver's license, and proof of auto insurance on their current vehicle. 
If you have any questions, please feel free to
Contact Us
! One of our friendly and helpful associates will be happy to assist you!
COVID-19 Resources
Sales Hours
Monday

9:00AM - 8:00PM

Tuesday

9:00AM - 6:00PM

Wednesday

9:00AM - 8:00PM

Thursday

9:00AM - 6:00PM

Friday

9:00AM - 6:00PM

Saturday

10:00AM - 3:00PM

Sunday

Closed
How Can We Help?
* Indicates a required field
Borgman Ford Mazda

3150 28th Street SW
Grand Rapids, MI 49418


Borgman Ford

3150 28th St SW
Grand Rapids, MI 49418


Borgman Auto of Holland

11143 Watertower Ct
Holland, MI 49424


Borgman Mazda

3150 28th Street SW
Grand Rapids, MI 49418

Visit us at: 3150 28th Street SW Grand Rapids, MI 49418