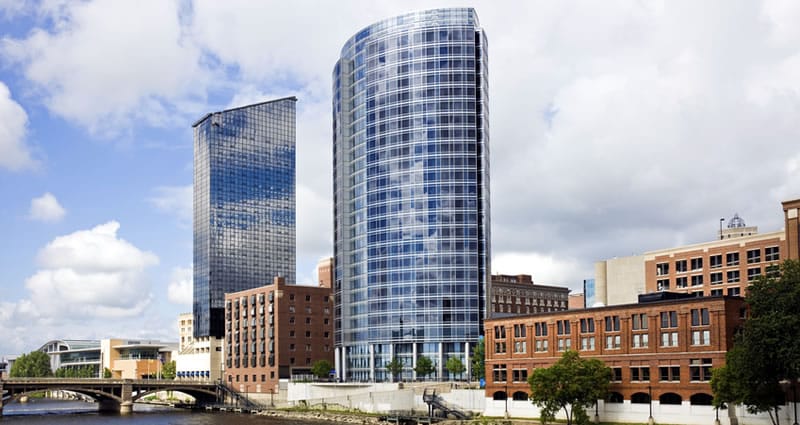 Borgman Ford Urges Grand Rapids & West Michigan Residents to Share Thoughts on Transportation
Borgman Ford has been serving the Grand Rapids and West Michigan community since 1960, and in that time we've had the unique pleasure of watching the city grow. In recent years, Grand Rapids has become a nationally-renowned destination for tourism, art, medicine, technology, and more. However, as more people flock here, the fastest-growing city in Michigan, issues with public transportation, traffic flow, parking, crosswalks, and other infrastructure have become more pronounced. The good news is, Ford is offering help.
We're happy to share that Grand Rapids has been selected to participate in the Ford City of Tomorrow Challenge. This summer, Grand Rapids residents are encouraged to share their ideas in this crowdsourced, grassroots effort towards improving the transportation and infrastructure of their city. A combination of public voting and a panel of judges will determine the top idea or ideas and will award up to $100,000 to implement them in a pilot program.
No one knows or loves this city more than its residents, and this is our opportunity to make a lasting impact on Grand Rapids for the better. Below, you can read more about the challenge with some excerpts from The Official Ford Media Center, or visit
Challenges.CityOfTomorrow.com
to join the discussion and share your ideas.
Help Your City Develop Seamless Transportation – Ford And Grand Rapids Work Together To Create The City Of Tomorrow
Ford Motor Company and Grand Rapids are working closely with public stakeholders as well as AT&T, Dell Technologies, Microsoft, PlanetM, and The Right Place to launch the Grand Rapids City of Tomorrow Challenge – a crowdsourcing platform for residents, businesses and community groups to propose and pilot solutions that improve mobility in Grand Rapids.
As urban populations surge and new technologies emerge, the ways people move around cities are changing. In Grand Rapids, for example, the use of public transportation continues to drop and most families have two or more cars, according to American Public Transportation Association. With Grand Rapids experiencing the largest population increase in Michigan percentage-wise, according to the U.S. Census Bureau, there is a need to alleviate congestion and reduce transportation wait times.
Solutions to many mobility issues already exist in some form, but the City of Tomorrow Challenge creates a more inclusive process in which residents can express their ideas as they participate in working to ensure a future where people and businesses can thrive. By working with communities to crowdsource new mobility designs and innovations, and funding pilots to test the top solutions, the program's goal is to help improve quality of life for Grand Rapids residents and visitors by providing dynamic mobility options that build on the existing transportation system.
"As our city grows, we want to ensure we are working with our community to make getting around Grand Rapids easier," said Grand Rapids Mayor Rosalynn Bliss. "We also want to strengthen confidence in our existing transportation systems. We have joined the City of Tomorrow Challenge because we believe Grand Rapids is a place where innovative ideas can improve mobility in our city."
Throughout the eight-month program, those who live, work and play in Grand Rapids are invited to explore dynamic mobility options, including making the city's streets more walkable and bike-friendly, extending the use of and the information that transportation systems provide, and enabling smart transportation choices. The Challenge includes a prize of up to $100,000 to fund pilots that test the top solutions in a real-world setting.
"Grand Rapids is already on the forefront of transportation with our vision for mobility," said Josh Naramore, City's Mobile GR-Parking Services manager. "With the City of Tomorrow Challenge, we can create a place that is a beacon of growth for years to come – a place where everyone can thrive."
To continue reading, visit
Media.Ford.com
.
How You Can Get Involved with the Future of Transportation in Grand Rapids, MI
Grand Rapids, MI is and has long been a great place to live and raise a family, and Borgman is grateful for all that have chosen us for a New Ford Vehicle over the years. As this city we're all a part of continues to grow, Ford is allowing us to shape how our transportation systems grow with it. Whether you drive a Ford, take the bus, ride a bicycle, or walk to get around, your voice will be heard and who knows - maybe it will be your idea that's implemented at the end of the challenge!
To find out more about the Ford City of Tomorrow Challenge in Grand Rapids, MI, and to share your thoughts, visit
Challenges.CityOfTomorrow.com
. Should your transportation needs include a New Ford Car, Truck, or SUV, check out our
Online Inventory
, read about our famous
Fair Trade Deals
, or explore our
Day Trader Program
. Come and see why Borgman is the Best in the West!