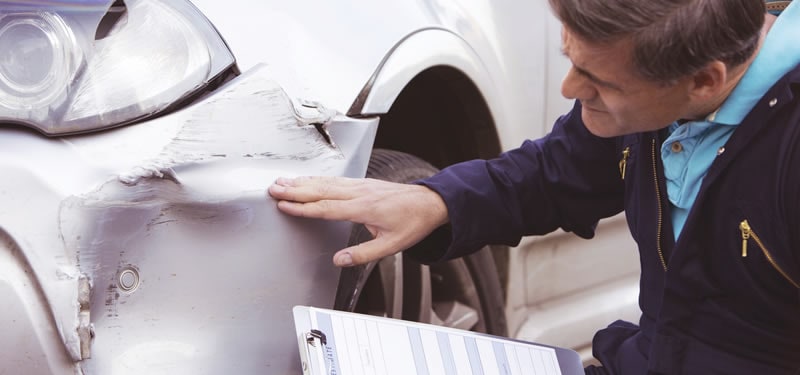 Borgman Ford is Grand Rapids & West Michigan's one stop shop for all of your collision repair needs. Whether you drive a Ford, Mazda, or any other make of vehicle, our experienced team of professionals will restore your vehicle to pre-accident condition.
If you're visiting the Borgman Ford Collision Center, chances are you're not having the best day of your life. Customers sometimes have to spend untold amounts of time on the phone with their insurance company, only to come away with incomplete or conflicting information.
Below, we're going to go over a few common points of confusion when navigating the collision repair process. We'll also highlight some of the services we provide to get your vehicle back on the road faster and lessen the inconvenience.
By Michigan Law, You Have The Right To Choose Your Own Body Shop
If you've ever been in an accident, right after reporting it to the police you usually spend some time on the phone with your insurance company. The insurance company may tell you exactly which shop to take your vehicle to. This might make you feel uneasy, and rightfully so – you may not know this shop or their reputation.
Choosing your own collision center is your decision by law.
However, don't expect the claims representative to just say, "Ok." Remember the insurance companies have agreements with one or more shops in your area. They'll want to send referrals to them in exchange for lower rates and the use of used or aftermarket parts. A common tactic used to funnel customers to their preferred shops is to warn them about possible delays, added hassle, special requirements, added cost or less warranty coverage, which wouldn't be a problem with their preferred shop. Do not allow yourself to be pressured by this.
Insurance companies have certain expectations their preferred shop must maintain, so the insurance company who sends the most business their way, gets their rules followed more closely than others. So, if you are one of the unfortunate customers who have insurance through a smaller company, you will be delayed in the repair process so the larger insurance companies get their needs taken care of first. We treat all customers fairly and perform the repairs as quickly as possible.
Rest assured: the Borgman Ford Collision Team has many years of experience negotiating with insurance companies and will do so on your behalf. We will make sure your vehicle gets thoroughly inspected, and the work gets done right the first time - complete with a lifetime warranty. We make every attempt to use
original new parts
as recommended by the manufacturer, even if we have to lose some money on the repairs. Your vehicle will also be returned to you in a timely fashion, no matter what kind of horror stories the adjuster is telling you over the phone.
"We will work with any insurer to get the job done, but we work to satisfy the customer's needs first," says John Workman, the Body Shop Manager at Borgman Collision. "Not officially partnering with insurers has allowed us to advocate for the owner - they're ultimately who we want to leave happy."
No, You Don't Need An Estimate For Approval From Your Insurer
Although you will get an estimate for the cost of repairs to your vehicle from Borgman Ford, it may not necessary for the insurance company to have one before the process can begin. Your insurance company may accept our estimate or send their adjuster who inspects the damage to your vehicle and makes a determination as to what the cost of the damage is. The funds are intended to compensate your losses for the damage to the vehicle, and Borgman Ford can help by negotiating that amount to ensure that it's enough to restore the vehicle to pre-incident condition. This brings us to our next point:
If Your Vehicle Is In Our Facility, The Adjuster Will Be Able To See Hidden Damage
Even if you were only in a minor fender-bender, there may be hidden damage to structural or mechanical components of your vehicle, so it's worth having it looked over. Insurance adjusters are trained professionals that do this every day, but in some cases, it's not always possible to inspect a vehicle fully when at your home or at a drive-up facility. Borgman Ford will ensure that the adjuster has the ability and resources to go through your vehicle with a fine-toothed comb while we act as an extra set of eyes during the process for you.
Choose Borgman Collision For Auto Accident Repair in Grand Rapids & West Michigan
If you're involved in an auto accident while out cruising West Michigan, let the experts at Borgman Ford Collision take the hassle out of the insurance and repair process. No matter the extent of the damage, our team has many years of experience restoring all makes and models to their original condition and navigating the insurance claims process. As a "one-stop" collision repair center, we do everything we can to lessen the inconvenience for our customers. We work for you, the customer, not the insurance companies and we promise to keep your best interests in the forefront of the repair process. Here are some of the benefits of choosing us:
We work with all insurance companies
We service all makes and models
Lifetime warranty on workmanship for as long as you own the vehicle
Factory-trained and certified technicians
I-CAR Platinum certified technicians
I-CAR Gold certified shop for over 12 years
All-new aluminum F-150 Ford certified
We use as many factory OEM parts as possible
Pick-up and delivery service available
Free loaner vehicles available
Se Habla Español
Should you find yourself in need of our services, we'll keep you moving and handle all the details so that you don't have to! Give us a call at
616-249-8857
or visit our
Collision Repair Center Page
for more information.