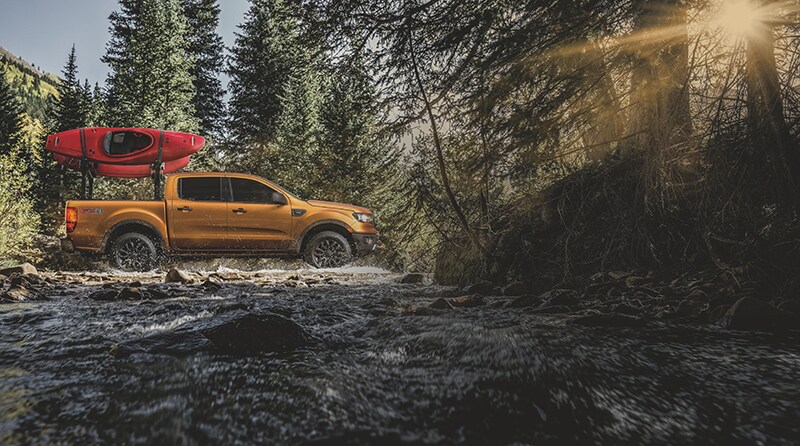 The weather is warming and you're getting antsy to head on your first Michigan adventure of the season: kayaking, hiking, vineyard touring, or camping. These activities (and more!) are more enjoyable when everything functions as expected, including your vehicle. Before you head out, ensure your vehicle is up to speed by having Borgman Ford check your necessities in a quick tune-up service appointment! Below are things you should check to ensure your adventure rides smooth in every way possible.
Check your oil and coolant.
If you're tacking on miles, ensure your oil change is up to date to preserve engine performance, and checking your coolant is essential to avoid overheating in the balmy Michigan summers. Ensuring everything is leak-free under the hood ensures a no-worry trip.
Lights and Wipers
Sometimes overlooked, these components are essential for navigating at night, especially in the event of an unexpected rainstorm. Check every light, including brake and blinkers, to reduce collision risk. Grab spares if it's been a while and store in the glove box to avoid nighttime safety risks!
Brakes and Tires (and have a spare wheel!)
Adventure driving is synonymous with encountering windy roads and big hills, so make sure your brakes and pads are in tip-top shape and that your tires have been recently aligned for optimal wear and performance. Borgman can check the details for any notable damage such as surface and tread wear, inflections, and bubbles. It's a smart idea to invest in a spare wheel for an accidental flat on the road, too. If you're not comfortable changing your own tire, keep Ford's Roadside Assistance contact information on hand for 24/7 assistance.
Steering
When driving, listen for abnormal engine sounds, vibrations and suspensions. Borgman offers thorough steering checks to ensure your vehicle isn't pulling you in any direction for safe navigation during long drives.
Outfit Your Ford
If you're interested in taking your vehicle for more than just an average road trip, consider the outfitting options available from various companies made either in partnership with Ford or endorsed by Ford. Tried-and-true brands like Yakima, Thule, and Malone make roof and bike racks for almost all car models! If you have a
Ford Ranger
, you're in luck; this year, Yakima released a
line of accessories
constructed specifically for optimizing the Ford Ranger for adventure, and include kayak racks, bike racks, truck-bed storage solutions, and truck-bed tents. If you need help installing any of these items, don't hesitate to ask your service professional at Borgman Ford!
Pack your bags, organize your car, and check off each of the safety to-dos above, and you're ready to ride. Your Borgman Ford service specialists are eager to assist in summer-adventure prep. We're dedicated to ensuring your Michigan Adventure is as safe and smooth as possible.
Schedule an appointment
today and remember to check our monthly
service specials
— we look forward to serving you!