Why Buy an Electric Vehicle?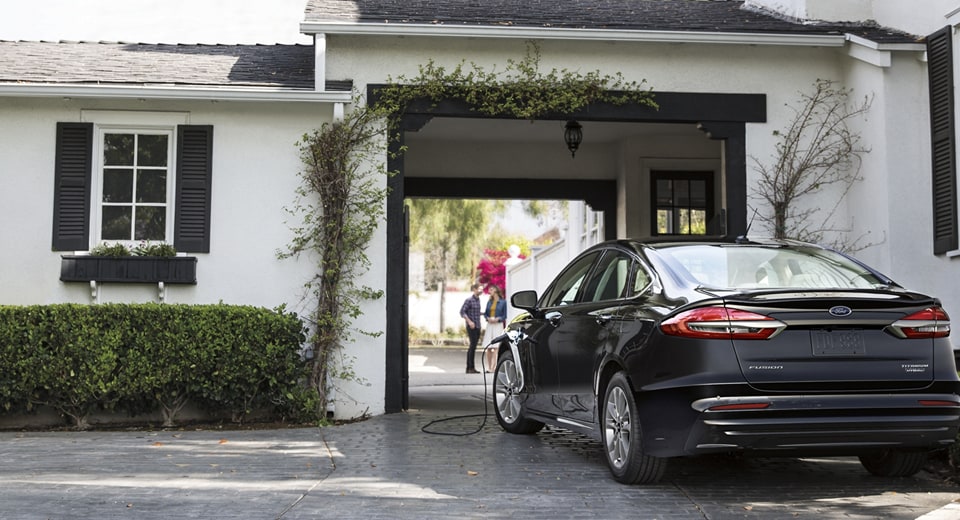 Ford's newest Hybrids and Electric Vehicles represent efficiency at its peak. Built to embody simplicity without sacrificing capability, Ford Hybrid and EVs feature advanced fuel-saving technology that redefines vehicle efficiency regardless of the driving mode: electric, gas, or a combination of both. Ford's new family of all-electric and hybrid vehicles are "leaving myths in the dust!" Borgman Ford believes in Ford's goal: to harness performance and passion while redefining Hybrid and Electric Vehicles for the world. 
Expanded Choices
Ford has reimagined EVs and Hybrids. Now you can have all the luxuries of your favorite Ford vehicles such as space, speed, towing capacity, and safety in an eco-friendly, cost-contentious version. Take the 2020 Fusion Hybrid and Plug-In Hybrid, for example: It has the same, renown Ford Fusion comfort, technology operations, and powertrain as it's gas version, only increased EPA (up to 43 on the Hybrid, and 109 on the Plug-In!) and lower long-term cost and environmental impact.  

Looking for a family sized vehicle? Try the 2020 Explorer Limited Hybrid, which is a no-compromise hybrid SUV that's ready to drive you on the next adventure (whether that's school and practice or the mountains!). The Explorer Hybrid is the only hybrid in its class that can tow 5,000 pounds and sport full off-road capabilities.

Or maybe you're looking for the a classic Built Ford Tough vehicle: look no further than the 2020 All-Electric Ford F-150. The F-150 is designed to tow more than 1 million pounds. Inspired by the sleek performance of a Mustang, Extended RangeIt's time to ditch the preconceived thought that an electric vehicle won't provide you with the range you need. Ford's Hybrid and EV family offers never-before seen ranges: The 2020 Ford Fusion Hybrid has an estimated EPA rating of 43 mpg, while the 2020 Ford Fusion Plug-In offers up to 109 mpg; 2020 Explorer Hybrid has an EPA-estimated rage of more than 500 miles between fill-ups; and the fully-electric 2020 Ford F-150 will feature an EPA range of at least 300 miles! Ford has built a family that's committed to taking you where you're going just as fast, only more efficient.  

Charging Stations are Increasing
The Department of Energy estimates there being over 21,000 public EV charging stations (and rising!) across the nation-and this number is rising quickly. You can find charging stations reliably in parking garages, airports, office buildings, hospitals, and many retailer mall's parking lots. With higher ranges and more EV charge stations, opting for the more efficient option is now a better experience than ever! 
All-Electric State and Federal Incentives 
If you choose a Ford EV, you may be eligible for up to $7,500 in US federal income tax credits (that's the maximum credit available in the industry!). Many states also offer additional rebates and incentives up to $2,500. 
Lower Maintenance Cost  
Fewer moving parts and no gasoline (or lower reliance on gasoline in the case of a Ford Hybrid) means less maintenance and fuel costs. Ford estimates a 38% lower cost when comparing to comparable gas vehicles! 
Reduced Noise, Heat, and Energy
While the reduced impact on the environment is well-known to both the manufacturers and the buyers, have you considered how these reductions could increase your personal driving experience? Imagine cruising down the road and the car's smooth ride matches the noise level it creates-completely silent, serene, and voiceless. It's the comfort of knowing you're barely interrupting the environment around you in all realms: reduced noise pollution, heat exertion, and overall energy consumption. Your vehicle can be as quiet, as eco-friendly, and as efficient as you want it to be. That's why the Ford 2020 Hybrid and EV family is continuously growing and improving. 
No Sacrifices 
With Ford's 2020 Hybrid and EV options, no performance or comfort sacrifices are made. It's the same luxuries, only better. See for yourself below!
2020 All-Electric Ford F-150 Towing Capacity
2020 Ford All-Electric Explorer v.s. Winter Weather
Ask Borgman!
If you're interested in any of Ford's 2020 Hybrid or EV models, stop in! We're happy to give you further details on these incredible cars. View our inventory of Hybrid and EV vehicles and swing in for a test drive anytime.
COVID-19 Resources
Sales Hours
Monday

9:00AM - 8:00PM

Tuesday

9:00AM - 6:00PM

Wednesday

9:00AM - 8:00PM

Thursday

9:00AM - 6:00PM

Friday

9:00AM - 6:00PM

Saturday

10:00AM - 3:00PM

Sunday

Closed
Borgman Ford Mazda

3150 28th Street SW
Grand Rapids, MI 49418


Borgman Ford

3150 28th St SW
Grand Rapids, MI 49418


Borgman Auto of Holland

11143 Watertower Ct
Holland, MI 49424


Borgman Mazda

3150 28th Street SW
Grand Rapids, MI 49418