We've Covered Your Powertrain. Now Expand Your Protection.
Our comprehensive  Borgman B-Free exclusive 20-year, 200,000 mile warranty covers your powertrain parts, which includes the Engine, Transmission, and Internal Drive Components. 
Want TOTAL Freedom? Upgrade For TOTAL Coverage!
For as little as $1 per day
, you can extend the B-Free Warranty to include important systems such as 
the Brakes, Air Conditioning, Suspension, Fuel, Electrical, and other high-tech Mazda components. 
It protects you from Labor Price Inflation, it can't be cancelled, there are no price increases. 
Additional benefits include Towing & Roadside Assistance Coverage and Price & Fraud Protection.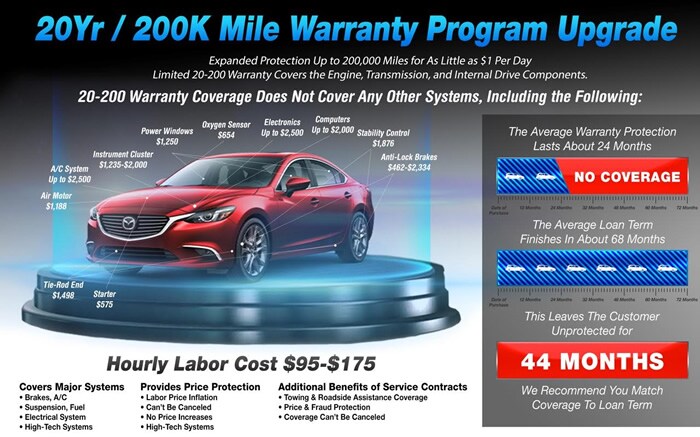 Average Repair Costs:
Starter - $575

Tie-Rod End - $1,498

Air Motor - $1,188

A/C System - Up to $2,500

Instrument Cluster - $1,235 to $2,000

Power Windows - $1,250

Oxygen Sensor - $654

Electronics - Up to $2,500

Computers - Up to $2,000

Stability Control - $1,876

Anti-Lock Brakes - $462 to $2,334

Hourly Labor: $95 to $175
Every New Mazda from Borgman will always have 20-Year 200,000 Mile Powertrain protection. However, for as little as $1 per day you can Be Free from unexpected and 
costly repairs to other critical systems within your Mazda. 
Be sure to ask your sales associate about expanding your coverage during your visit, or feel free to Contact Us!
Sales Hours
Monday

9:00AM - 8:00PM

Tuesday

9:00AM - 6:00PM

Wednesday

9:00AM - 8:00PM

Thursday

9:00AM - 6:00PM

Friday

9:00AM - 6:00PM

Saturday

9:00AM - 4:00PM

Sunday

Closed
Make an Inquiry